Spike Protein Goes to Nucleus and Impairs DNA Repair...
by Drbeen Medical Lectures | Date added: 05-November-21

And this is why being injected with a Covid vaccine is a bad idea...
It's common knowledge that the Covid vaccines contain the 'spike protein' part of the virus (rather than the 'whole virus'). This has been portrayed as the "safe(r)" part of the virus, but it's now evidently not without its harms/risks*.
The following slide shown in this video states "SPIKE PROTEIN IMPAIRS DNA DAMAGE REPAIR" and "VERY CONCERNING". It lists the following under the heading of "Possible" i.e. what the spike protein could possibly lead to:
- Immune Dysregulation?
- Cancers?
- New Cell Formation?
- Growth Issues?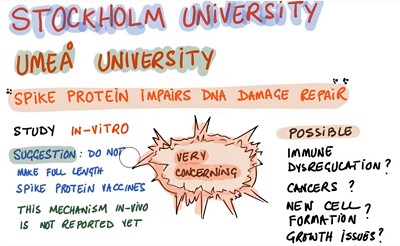 For a 'treatment' that's supposed to (i.e. promoted as to) provide immunity to the Sars-Cov-2 virus, it seems nonsensical to me that such treatment actually impairs ones' immune system. There have been other claims along the lines of, it causes AIDS... this being Auto Immune Deficiency Syndrome, exactly what we are describing, but such a term carries such negative and misunderstood connotations.
My approach from the onset of Covid (and long since prior to it) has been to promote a healthy immune system naturally; my concern regarding vaccinations (and prescribed drugs in general) is that in the long run (at least) they lead to a person being overly dependent on medication because they haven't built and maintained those natural ways of dealing with things. To me this is exactly what the medical industry want; it's how they make their billions and is why natural/herd immunity hasn't been encouraged from official channels and the media.
*These harms/risks are "slow-burners". A hampered immune system and cancers are often slow to develop and present themselves and thus when they develop (perhaps years down the line) it's hard to pinpoint the cause(s). I predict there will be a mass-issue/denial from officials/further cover-ups as cases develop where people's heath is in tatters (just like we're seeing with the case of Lockdowns and vaccine side effects). Of course, the medical industry have their backs covered by writing into any contracts that they will not being held liable.
The slide has the suggestion to not use the whole spike protein in the vaccines... sadly the damage has been done; some countries are reporting that (if you can believe it) up to 90% of their population has already been vaccinated.
Of course, the virus itself contains the spike protein, so you take your risk either way. Personally I think the best course is to maintain/develop a healthy immune system, either in preparation for encountering the virus naturally (if you haven't already)... or if you are intent on being injected with an artificial substance, then that. Once you have encountered the virus or had the vaccine you should continue your efforts of leading an immune-system-supporting lifestyle (sadly many people fail to do this and seemingly (although perhaps not intentionally) choose the vaccine route as the easy option). With the latter you might want to research ways to counter the effects of receiving vaccinations, such a path would likely lead to topics of "removing heavy metals" that are typically present in them.