The Conquest of Paradise by Kirkpatrick Sale
- Christopher Columbus and the Columbian Legacy
Notes:
p.10 The Pinta was under the command of Martin Alonso Pinzon, "it was claimed that Pinzon had been to Rome and seen charts of new lands across the seas." Because as conspiracy theorists believe, Rome and the Vatican have such knowledge of the world hidden away.
p.12 I found it interesting that while the three ships were embarking on a voyage of new discovery, none were equipped for such a voyage. Even though they were supported by Rome they weren't travelling to spread the "word of God", and they weren't equipped for an invasion either.
p.16 "And there is some reason to suspect that he may have had, who knows how, some idea of the wind patterns across the Atlantic, for he did select routes both out and back that were so accurate in making use of prevailing air currents that sailing ships use them to this day." I read about the winds that carry vessels westward, known in ancient times, in Thor Heyerdahl's book I last read.
p.17 "...the standard historians' line that the European conquest of America was driven by "God, Gold, and glory" would seem to be pretty much on the mark."
p.22 "Just why Colon chose to sail to the Canaries is not quite clear. It is true that they were the westernmost possessions of Castile - but they were 700 miles to the south and represented a considerable deviation for a fleet that would presumably have been aiming due west. It may have been, as some have suggested, that he had picked up somewhere (perhaps during his time in the Madeiras) an idea that he would find easterly winds at that latitude, and if so, that was no doubt the most important single decision in his entire navigational career, for that is exactly what happened... Or it may have been pure dumb luck, as others have suggested, inspired by an idea that his ultimate destination was on the same latitude..."
Basically, I've determined the voyage to (rediscover) America ventured westward on the same longitude as the Great Pyramid of Egypt and many other such sites around the world... that and Rome knew America was there because they had maps (and other documents) which they'd swiped from the Library of Alexandria before they torched the place.
p.48 "There was no doubt that they did know how far it was to their destination, for Fernando assures us that his father "had often told them they must not expect to strike land until they had sailed seven hundred and fifty leagues west of the Canaries."
p.54 Yeah, so it turns out that he wasn't Christopher Columbus (as you seem to get taught in school), but more likely Christobal Colom in Portugal, or Cristobal Colon in Spain.
p.55 I like the Spanish word querencia, "which implies not merely a 'love of home,'... but a deep, quiet sense of inner well-being that comes from knowing a particular place of the earth... It is that place where, whenever you return to it, your soul releases an inner sigh of recognition and relaxation." I realise I have such a place.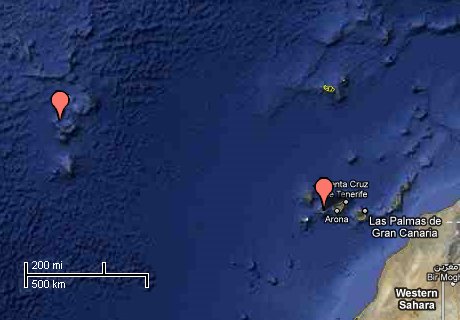 p.56/9 "It was just eight days into the voyage from the Canaries that the compasses of the fleet went haywire, at least in nautical terms" Here I started to read between the lines and was thinking 'Bermuda Triangle'! However, the author assures us that "what in fact had happened is that the ships had sailed to a point on the earth where one can see the normal diurnal rotation of the North Star, a phenomenon not visible from Mediterranean latitudes." Shame! Although, I went to the lengths of back tracking though the book and worked out where the fleet were across the Atlantic on any given day. At eight days they were only 500 miles from the Canaries, then just 250 miles further the "crew kept finding signs of land" and it is at this approximate point that there are what look like, according to Google Maps satellite imagery, low lying land/'land' that doesn't quite break the surface.
p.69 "The landfall island itself, as we may surmise from archaeological scholarship, would have been first inhabited sometime around A.D. 900... the landmass that is today known as North America, to which the Bahamian islands are geologically and biologically related, was discovered and temporarily settled by Europeans at least as early as A.D. 1000. There is now no question whatsoever that Norse explorers, presumably sailing from their colonies in Greenland, came upon Baffin Island, Labrador, and Newfoundland, all parts of North America, in the eleventh century..."
p.81 "From these elemental patterns in Europe's tapestry of nature - ignorance and fear, separation and hostility, dominance and exploitation - a discernible image emerges: of a world more mechanistic than organic, more artificial than intrinsic, more corporeal than numinous, from which intimacy, sacredness, and reverence have all but vanished (it would be the achievement of the next five centuries to eliminate them entirely) and in which something colder, duller, and more lifeless presides instead..."
p.141 Like the natives of Britain In The Year Zero (see below), "[the native Americans] marry as many wives as they please; and son cohabits with mother, brother with sister, male cousin with female, and any man with the first woman he meets."
p.151 "It is said, by Las Casas among others, that what perplexed the Tainos of Espanola most about the strange white people from the large ships was not their violence, not even their greed, nor in fact their peculiar attitudes toward property, but rather their coldness, their hardness, their lack of love."
p.173 I found it strange that "the ancients and the Holy Church were wrong about the single Island of the Earth and this was some kind of orbis alterius that the theologians had proved was impossible" not that they were wrong but that this sentence contradicts the earlier statement about the Church knowing, and possibly having ancient maps showing that there was an 'America'.
p.177 "There is a recurrent theme among the myths of many of the Indians of the Americas that might be described as one not of Paradise Lost but of Paradise Now: in effect, of peoples having ascended from a dark Other World, a world of sorrow and evil, into the present Edenic garden, peoples not fallen but risen, not damned but blessed, not inherently sinful but inherently salubrious. Such a belief might change a culture's view of the world around it quite substantially." With this in mind, what is it that we, the Europeans, are trying to achieve with 'our world', our constant strive for improvement?
p.190 "Seneca... predicted in Medea that 'the years will come, in the succession of the ages, when the Ocean will loose the chains of things, and a huge land lie revealed".
p.200-1 "...he lost interest entirely in the gentle Tainos... he conquered and ruled [them] by force, killing fellow beings with no more compassion than a butcher for his beasts."
p.206 "Can it be an accident that this was almost exactly the configuration of the Western Hemisphere represented on the first printed map of the New World, by Giovanni Matteo Contarini in 1506, just four years later; on the Johannes Ruysch map of 1507; and quite similar to the Piri Re'is map of 1513 that was labeled as having been based on a chart taken by the Turks...?"
What was the whole purpose of the voyages? Find other lands (secretly known?) unknown? Just to see what's there? Find a route to India (hence the native Americans became know as Indians because that's what they were thought to be? Gold? Colonisation? I question these in my History section.
p.242 Of this latter purpose, it is interesting to note that on the voyage in 1606/7 that resulted in the founding of the first permanent English settlement in North America, Jamestown, in the new Colony of Virginia, "there were no farmers, no botanists, none with a special knowledge of what was then called 'natural history', [nor even any] goldsmiths, and there were no women, although a century of European colonization attempts had demonstrated by then how crucial they were to successful settlement."
p.249 A little bit off topic - witchcraft "[Witchcraft] was in essence, the name given by the established authorities to the various surviving forms of paganism, animism, and goddess-worship that still played a large part in certain European belief-systems, particularly in rural areas, stemming from roots deep in fertility cults and nature-worship from the past that the Church had never been able to suppress."
p.256-7 Learning about the St. Bartholomew's Day massacre was pretty horrific.
p.258 "America in a phrase... the land of exploitation."
p.269 "Whatever the differences between English and Spanish forms of conquest, they were alike in their desire to emplace their own foreign populations, establish political and ideological hegemony, settle and control large stretches pf land, effect military control - and achieve spiritual regeneration in the process." A method I believe that was inherited by the Romans 1000 years earlier.
p.272-3 "Time and again it is reported that the colonists were 'not so provident... as to put corne in the fround for their winters bread' or 'not compelled (since in themselves unwilling) to sowe Corne for their own bellies, nor to put a Roote, Herbe, &c. for their owne partiular good in their Gardens, or elsewhere." Time and again it is said that they succumed to unaccountable 'idleness and bestiall sloth,' 'laziness,' and 'unwillingness,' and 'had they not been forced... they would all have starved.' This is not all that surprising though when you learn of the types of people who we are dealing with - not farmers or even people that know manual labour of any kind - are they not the same types of people that live today off benefits, who have no self-motivation when it comes to providing for themselves but instead expect to be provided for? Sadly, today these people can survive living this way.
"...the alienation from nature [was] already ingrained in European culture - and more so in settlers from distinctly urbanized societies such as southeastern England and southern Spain - might well create a psychological impotence, a withdrawal, a kind of mental fetal-positioning, that would read to the world as idleness and laziness."
p.283 Regarding using/abusing the land for monetary gain "the only way to maintain income with falling prices was to move farther and farther out into Powhatan country and plant larger and larger fields, felling trees and clearing lands wherever they could, regardless of local populations or environments... in Virginia it proved all the more voracious because the tin topsoils of the tidewater coast (not enriched by glacial mineral deposits, as northern soils are) were exhausted in a half-dozen years and [tobacco] plantations were abandoned and left to erosion... such farming ensured that the minimum number of people would have the maximum impact on the soul and forest, none of it beneficial. Even today [these regions] show the disastrous effect... It is perhaps fitting that the first colony of what was to become the United States was saved by, and built entirely around, a product of human and environmental debilitation."
p.284 Reading about the 'slaves' that formed the servants of Jamestown and their 'freedom grants' gave me a sense of deja-vou after reading about the same treatment by the Romans throughout Europe.
p.286 "In its attitude to the land, and the creatures thereof, a culture reveals the truest part of its soul."
p.287 It's sad that for the original colonisers "The world was all before them, but somehow they saw it not." The author suspects "that this remarkable blindness, this separateness, is part of that same mental blockading, the psychological distancing, that psychological distancing and numbing, that descended on the Jamestown settlers... not knowing how to assimilate the American wilderness..."
p.289 "To this terror of the wild the European mind opposed the serenity of the garden: nature tamed, nature subdued, nature, as it were, denatured. The mission to impose control - and its aesthetic analogue, order - on elements of the natural world was seen as the very duty, the very purpose, of civilization and above all its Christian form."
p.291 "...within a just a century [the Europeans] did more to alter the environment of North America, in some places and for many populations quite irretrievably, than the many millions of the American branch had done in fifteen centuries or more. It took a special kind of mind to see that impact as beneficial, as "progress," indeed as "civilisation." But the European (and the American successor) possessed just such a mind: those English who clear-cut their way through ancient primordial forests actually spoke of 'making land.'"
In summary, the Europeans could have learned a lot from the Native Americans, and had they done so, the world would have turned out to be an amazing place.