3rd May 2022 - Day 4 of my Anglesey Coastal Footpath trip...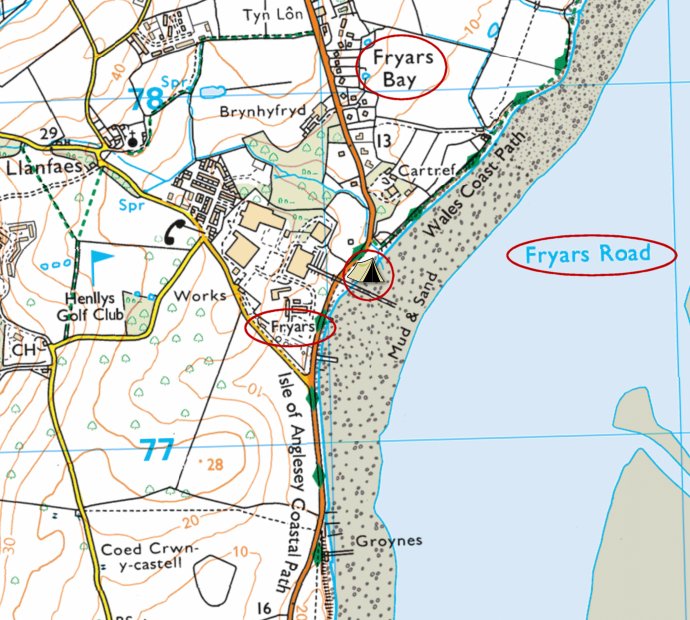 I woke around 5:30 in my tent on the coast, about a mile outside of Beaumaris. I packed up my gear and set off.
The first stretch took me past Fryars, which turns out to have a fair amount of history about it, as well as birds adorning the property.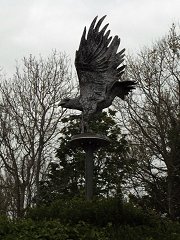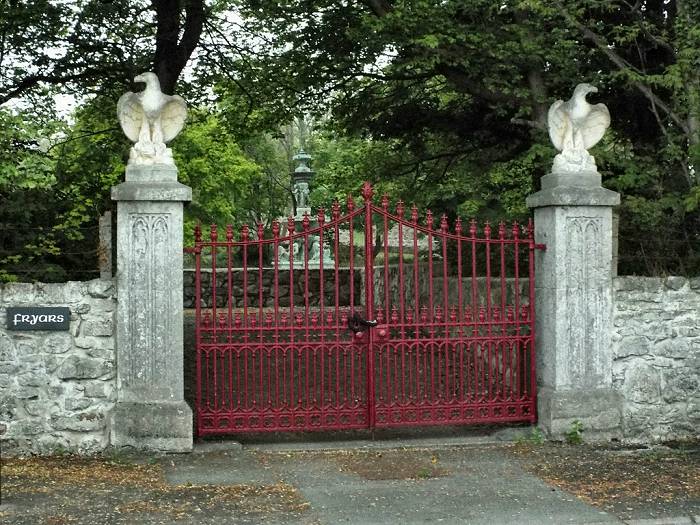 I made it into Beaumaris before 7am and before the main shop in the village was open. The local newsagents was open already though, so I bought postcards and postage stamps and wandered a short distance to sit on a bench and write up the cards. By the time I'd done that the local shop was open so I could buy some food and post the cards.
I then made my way to the end of the pier to sit on another bench, enjoy the views, and eat the food I bought - a large baguette, some salad and a tub of reduced-priced double cream! (a great source of calories I realised!)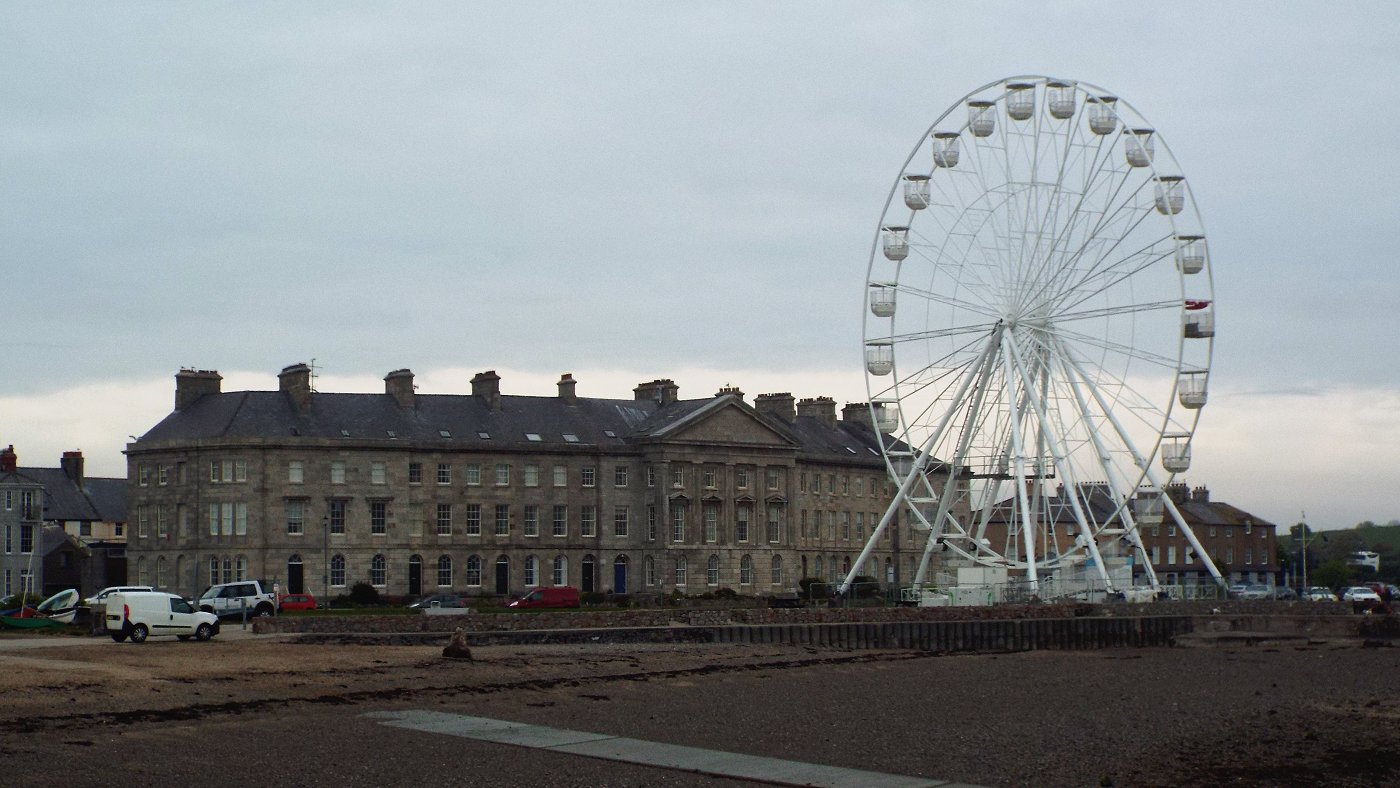 A view back towards Beaumaris from the pier.
As I continued my walk in this early morning I got to enjoy the sleepy boats on the still waters: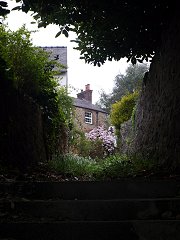 From Beaumaris I next headed to the town of Menai, where the famous bridge connects the island of Anglesey to the mainland. I had neglected to either read the directions or consult the map; I thought I knew the way and would simply follow signs if I needed to. However, I failed to see the sign that would have guided me away from the main road (A545) and winds along the coast, as there is no footpath here. It was kind of too late before I realised there must have been a specific route for walkers. It was quite precarious on the winding road (of which the map below doesn't do it justice) as it is quite narrow for the motor vehicles, the road is also shaded by trees. I kept myself a little safer by using my torch, set to flashing, holding it in my hand and aiming it behind me, to worn the vehicles approaching me from behind.


The 5 miles between Beaumaris and Menai.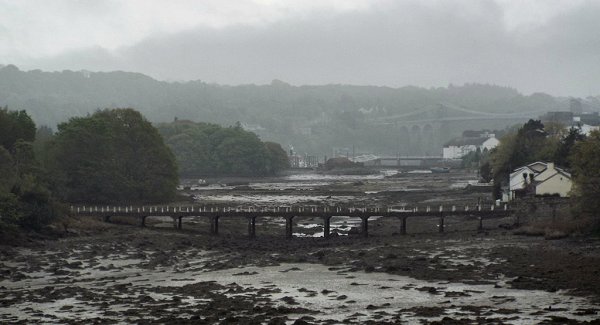 A grey morning of bridges; the Menai Bridge in the distance.
This is signed as being a private island. I see a derelict building on it... oh so tempting!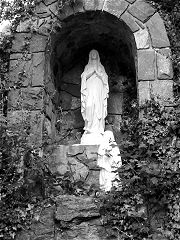 The walk to Menai also took longer than I'd anticipated; in my mind it was only a mile, but in reality it was closer to 5. Once safely there though I chose a cafe to eat at for my breakfast. While the breakfast filled a hole I wasn't totally satisfied with it; it was labelled on the menu as a "full" breakfast, yet only included one sausage, and is all too often typical, the coffee was "fresh" with cold milk on the side, which I don't think is so nice. To make matters worse, free sausages were being given to the dogs that were allowed in!

The bridge coming into view. This must have been a spectacle as it was being built.
You can get an impression of this from the sign boards above and below, and the 2020 Dolittle film that featured it.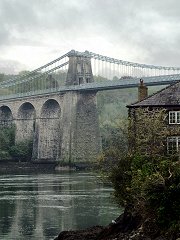 Next on my walk I kind of had it in my mind that I wanted to walk across the Menai Bridge, just so that I could say I'd walked all the way to Bangor (which is just across it), however, the route took me under it before I had chance to re-think my route.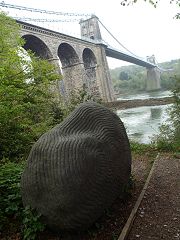 There I saw this large caved rock; I don't know when the intricate pattern was made - it looks modern and machined due to the precision, but perhaps I'm wrong.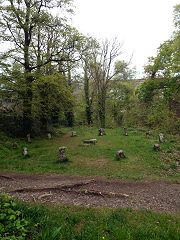 A little further on were more stones, but smaller and numerous, and arranged in a circle. Perhaps ancient, or perhaps, as I suspect with these, a modern impression of something megalithic (which would typically be of larger stones).
Further along and the Britannia Bridge, the second bridge that connects Anglesey with the mainland (via road and rail) was coming into view.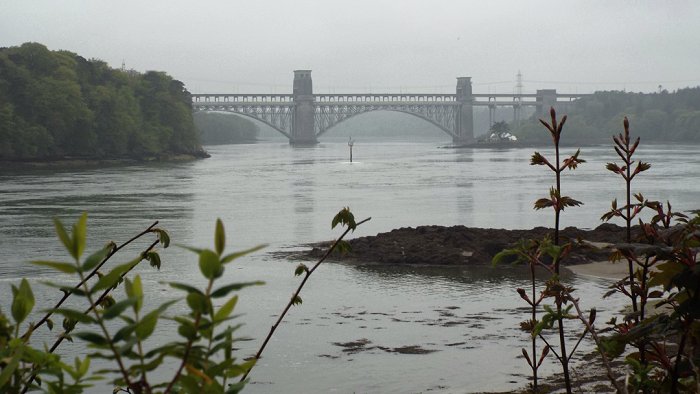 Before getting that far I arrived at Church Island / Ynys Tysilio, just on the other side of the Menai Bridge.


(walking from right to left, following the pink chevrons)
| | | |
| --- | --- | --- |
| "Church Island, also known as Llandysilio Island, (Welsh: Ynys Tysilio) is a small island in the Menai Strait on the shores of Anglesey to which it is attached by a short causeway that is reachable only on foot. The dominant feature of the island is with St Tysilio's Church, constructed in the 15th century, its churchyard, and a grade-II listed war memorial. The 20th-century bard Cynan (Albert Evans-Jones) is among several notable people buried in the churchyard. The Anglesey Coastal Path passes the head of the causeway." - Wikipedia | | |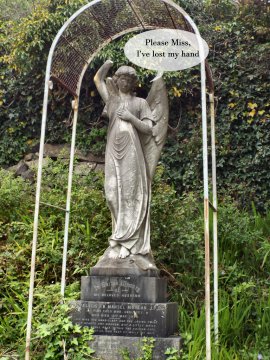 There were statues and lots of gravestones. I became aware of a prevalence of a lot of handshakes featuring on gravestones, which perhaps is commonplace in many graveyards; I considered that these were to symbolise the person was a freemason since the first finger was erect on the hand while other fingers gripped the other hand - is this how the masonic handshake is? (It's not so excessive in this particular picture compared to others).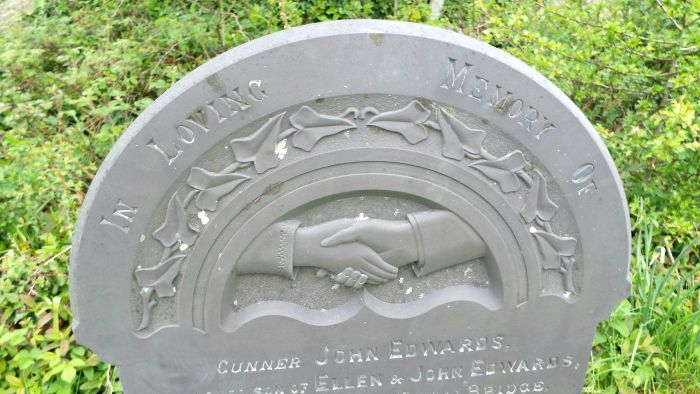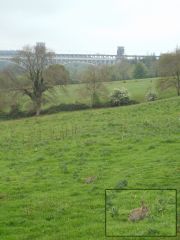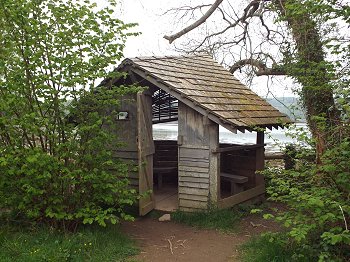 Back to the footpath proper after my detour around the little island of graves, the Britannia Bridge started to come into view.
There was this little hut alongside the path, from which could be enjoyed views along the Straits; I could look back towards the photogenic Menai Bridge.
Here is the Britannia Bridge in all its glory: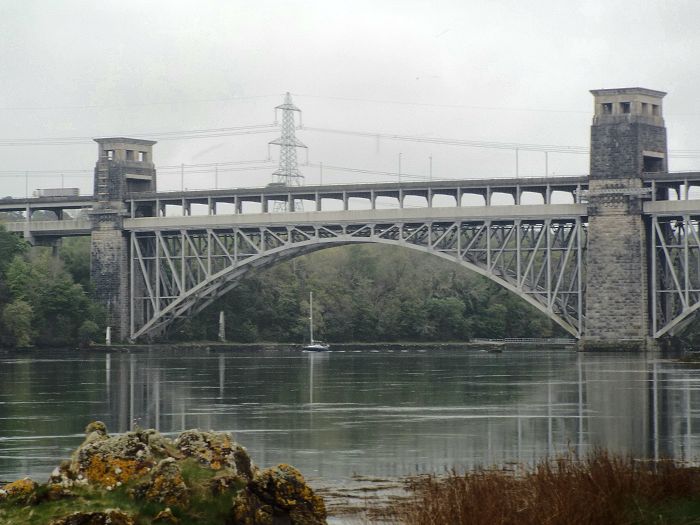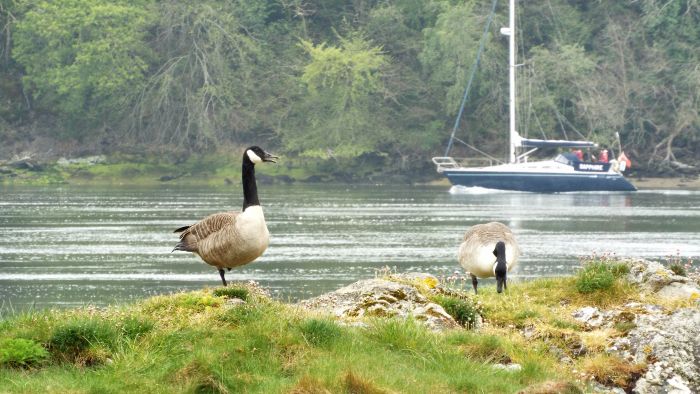 While this looks like a panoramic shot, it's not; it was a single photograph cropped top and bottom.
The path took me under the second bridge also.
| | | |
| --- | --- | --- |
| Does this graffiti look familiar? | | Further along, overlooking the Straits, I met Lord Nelson |

(Be sure to pause the video after the clip, else the next one starts)
And here, while Nelson kept a lookout for me, I took a dip,
since I had not washed properly, and walked every day, for four days!
I wasn't the only one out in the water...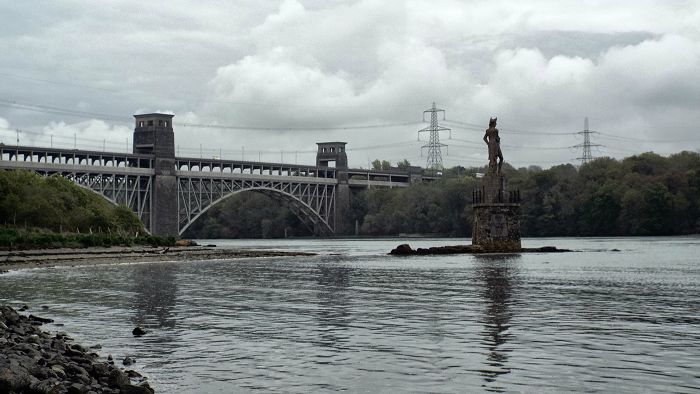 Out of the water, and wrapped in a towel, some other walkers appeared... I grinned sheepishly! Then got dressed and continued on my way.
The path took me through some gates, where I saw some more of that graffiti! Then up some steps...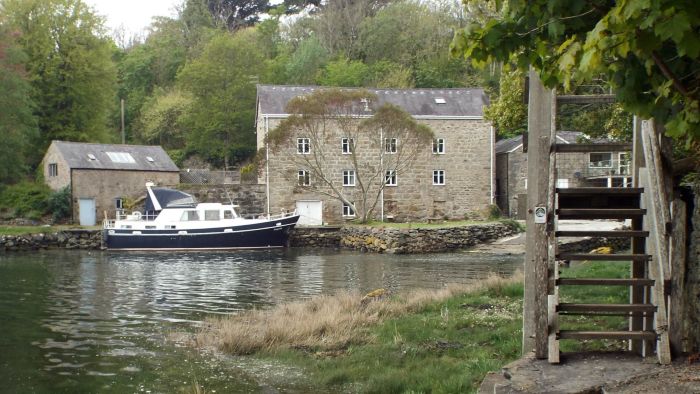 And then inland a little, to Bryn Celli Ddu, an ancient monument that I can only describe as a mini version of Newgrange in Ireland.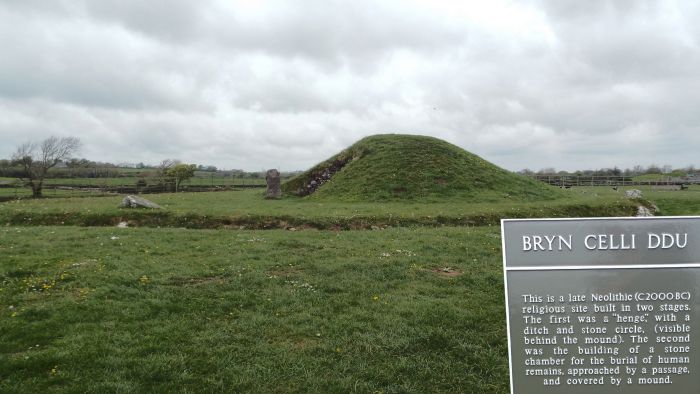 | | |
| --- | --- |
| Speaking of mini versions of things, here is a mini cow: | |
An hour later I was back out to the water's edge.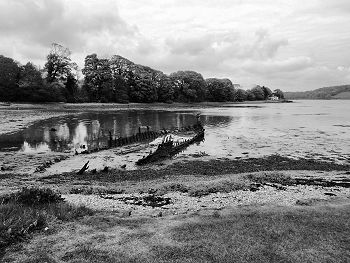 By late afternoon I was back at the coast overlooking the Straits to Caernarfon where I could see Caernarfon Castle.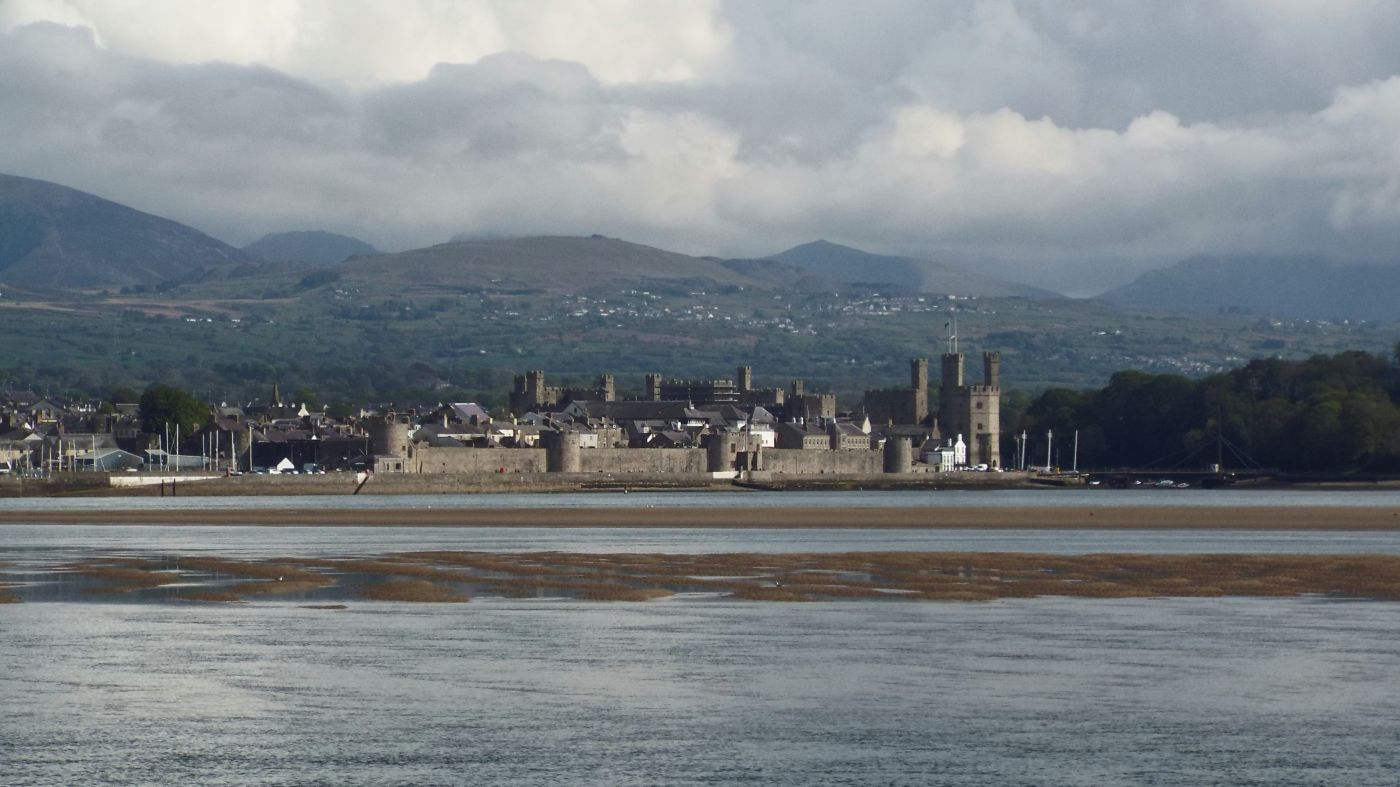 I'd reached Brynsiencyn where a little further on was first the Anglesey Sea Zoo, but too late to order anything from the cafe, and then Foel Farm. Here, as I arrived were the last tourists rides of the day going by, with tourists in trailers being pulled along by tractors. A friendly farmer gave me a wave. It was 4:40pm now and the cafe here had also finished serving food but I was able to get a cup of coffee and a flapjack. Then as I was tucking into these the farmer who had given me a wave upon my arrive popped by for a friendly chat about my walk - I was evidently doing the Coastal Footpath!
Back out on the path I found this curious hand-painted stone on a gatepost: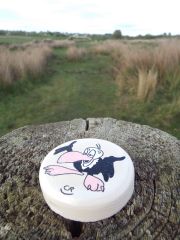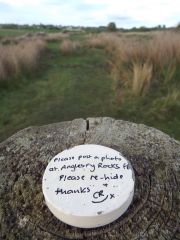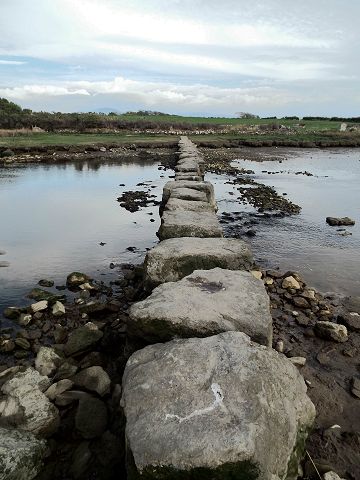 Seemingly I was permitted to take it with me to deposit somewhere else, so I did so.
Next up I had to cross these large stepping stones [right].
For some reason I have a slight phobia about stepping over water like this, but I just convinced myself it was perfectly safe and many others will have taken this route each day before me.
Next up I arrived at Llyn Rhos Ddu, Newbourough, a nature reserve consisting of sand dunes.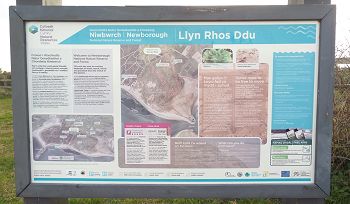 There are a variety colour-coded footpaths here but I manage to get myself "lost", or rather I ended up in the depth of the dunes having turned off down a wrong footpath for where I wanted to head.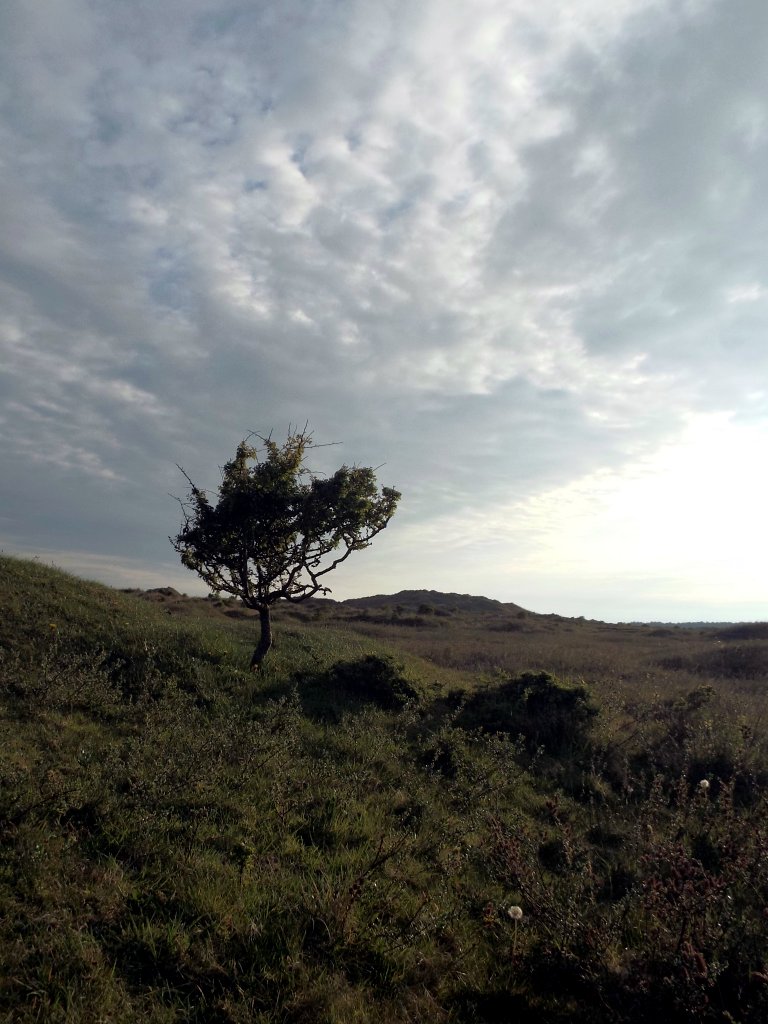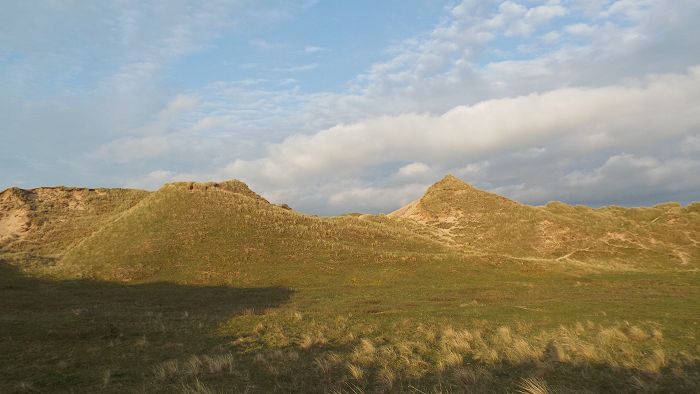 Eventually I found my way out to the beach and onto a relatively flat patch of sand (most was sloped), and after some further leveling I pitched my tent.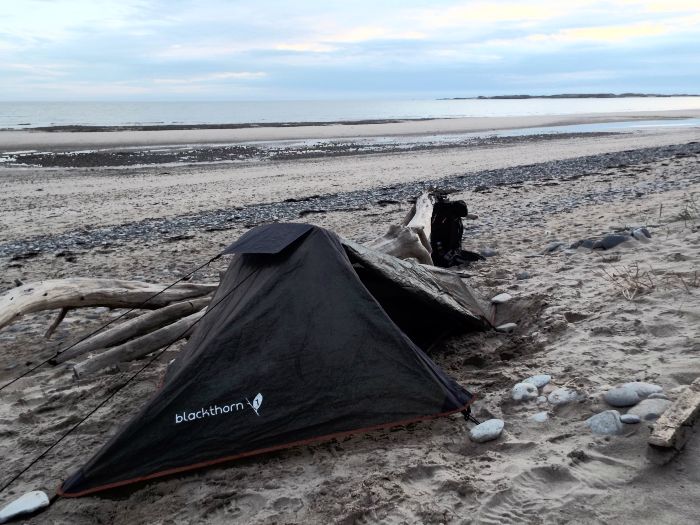 It all felt very "Lord of the Flies" but I hoped I would have a comfortable night's sleep on the soft sand.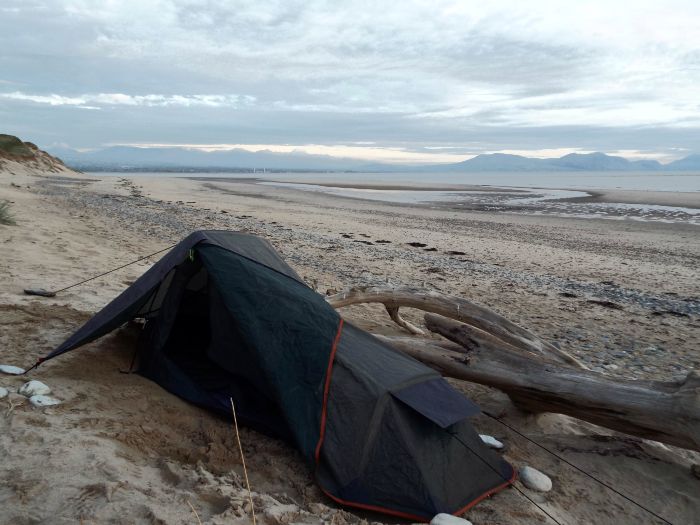 | | | | |
| --- | --- | --- | --- |
| Miles | Floors | Steps | Calories |
| 27.54 | 129 | 61,063 | 4,842 |
*This data is preliminary and upon my return I noticed a discrepancy between "official map distance" and what my Fitbit reported.
[ Day 5 coming soon ]