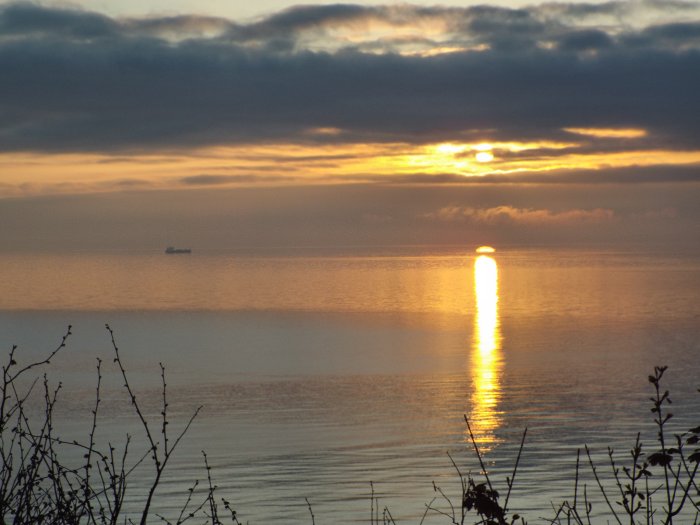 2nd May 2022 - Day 3 of my Anglesey Coastal Footpath trip...
I woke early again; 5:40am. It had been a quiet night; I'd expected at least some dog-walkers to pass by my tent in the night, situated along side the footpath as it was, but no. It had gotten chilly in the night, I suppose from an off-shore breeze, and I'd had to properly hunker down in my sleeping bag to keep warm, and it was chilly on my fingers as I packed up my tent; thankfully I was out of it just in time to see the sunrise.
My first mile of walk for the day took me through Benllech, alongside its popular beach.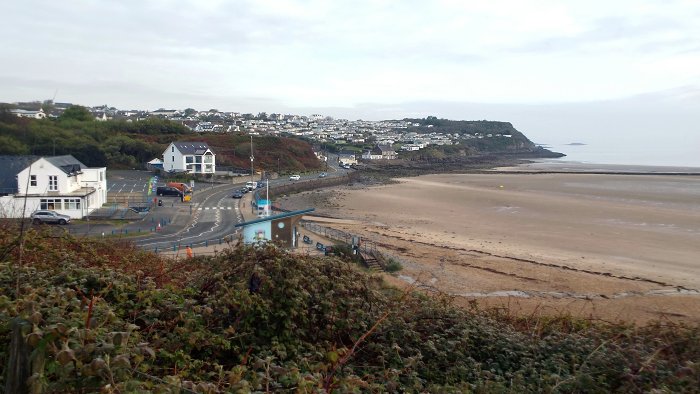 Looking back, you can see the all the static caravans here; just round the coast is where I camped.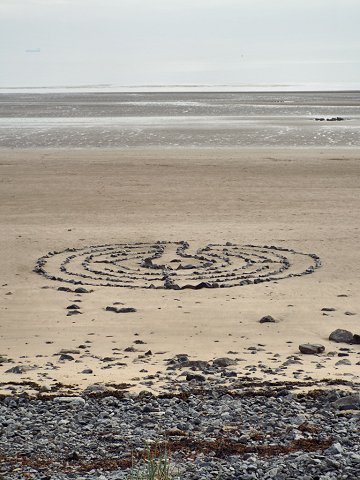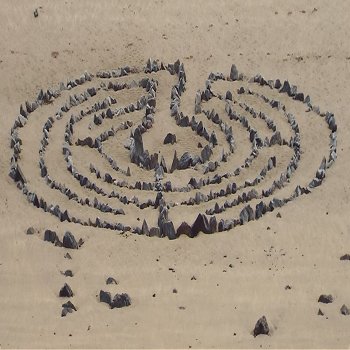 I've visited this beach numerous times but this was the first time I'd followed the footpath. A short way along and out on the sand I could see an array of stones; the beach version of a crop circle perhaps? (right)

Here is a patch of ground that would have been a welcoming spot to camp if I'd have walked a little further the day before (although the ground doesn't look so soft):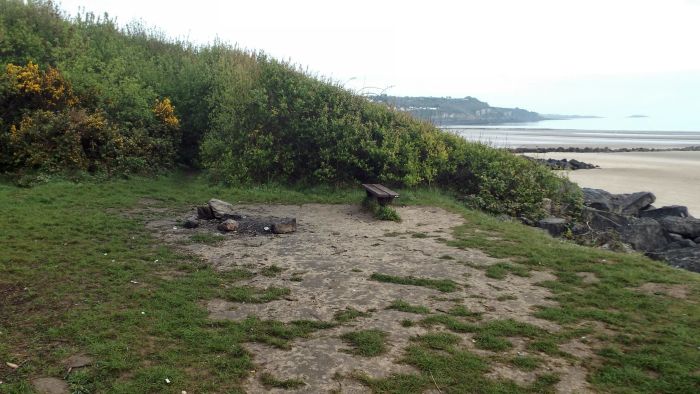 | | | | | |
| --- | --- | --- | --- | --- |
| While there were attractive boardwalks to walk along through wooded areas and beside the cliffs here, I recall from my travel diary that I'd found this day to be "kind of a slog, with my shoulders aching more than yesterday." - some days my heavy rucksack didn't bother me so much, but other days it did; it was also strange how I could go to 'bed' aching from the day's labour, and be uncomfortable in the night, struggling to properly sleep while I tried to find a comfortable side and position - tossing and turning - shuffling in my sleeping bag, only to wake in the morning pain-free as if my body had magically recovered in the wee-hours, or had pain-centres of my brain simply forgotten those sensations? | | | | |
I grew more accustomed to this ability each day and played with a form of meditation as I tried to get to sleep; I would take slow deep breaths in, and imagine the universe assisting my body's recovery, and then slowly breathe out while imaging any pain or discomfort leaving my body. This act helped me to get to sleep, safe in the knowledge that I would wake up rejuvenated, rather than having to worry that 1) I wouldn't get enough sleep, and 2) I would wake up the next day still feeling these pains.
After Benllech proper there was a caravan site to pass through and since I wasn't paying proper attention to either my printed directions or the small sign posts for the footpath I ended up not sticking to the official route, but none-the-less I got back to the foot path after exiting the site at the far end and following my sense of direction.
After a while came Red Wharf Bay (below) which I skirted round, passing by Pentraeth on the way, although this went unnoticed as the familiar centre where the the main road passes through was a little inland.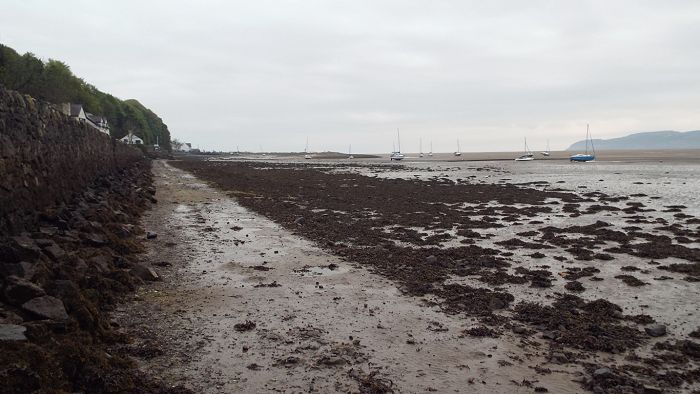 The sand here turned golden yellow and I got to observe a horse having a run around.

Then came a part of the footpath I have walked before, or rather, cycled and walked.

To the right is a photograph of a long stretch of the path that is essentially on the top of a wall, I assume the beach turns somewhat boggy/marshy below. There is a fence/handrail to the left, but that seems quite rickety, and brambles/bushes to the right, each side there being quite a drop (I don't think the picture does it justice). When I rode my bike to here I wasn't quite brave enough to ride on the wall.

Every so often there were little "passing places" on the wall, and people had been adding little displays of shells and pebbles, some painted, on them.

An hour's walk further on and I passed through fields of sheep and cows.
Enjoying more views until Puffin Island started to come into view: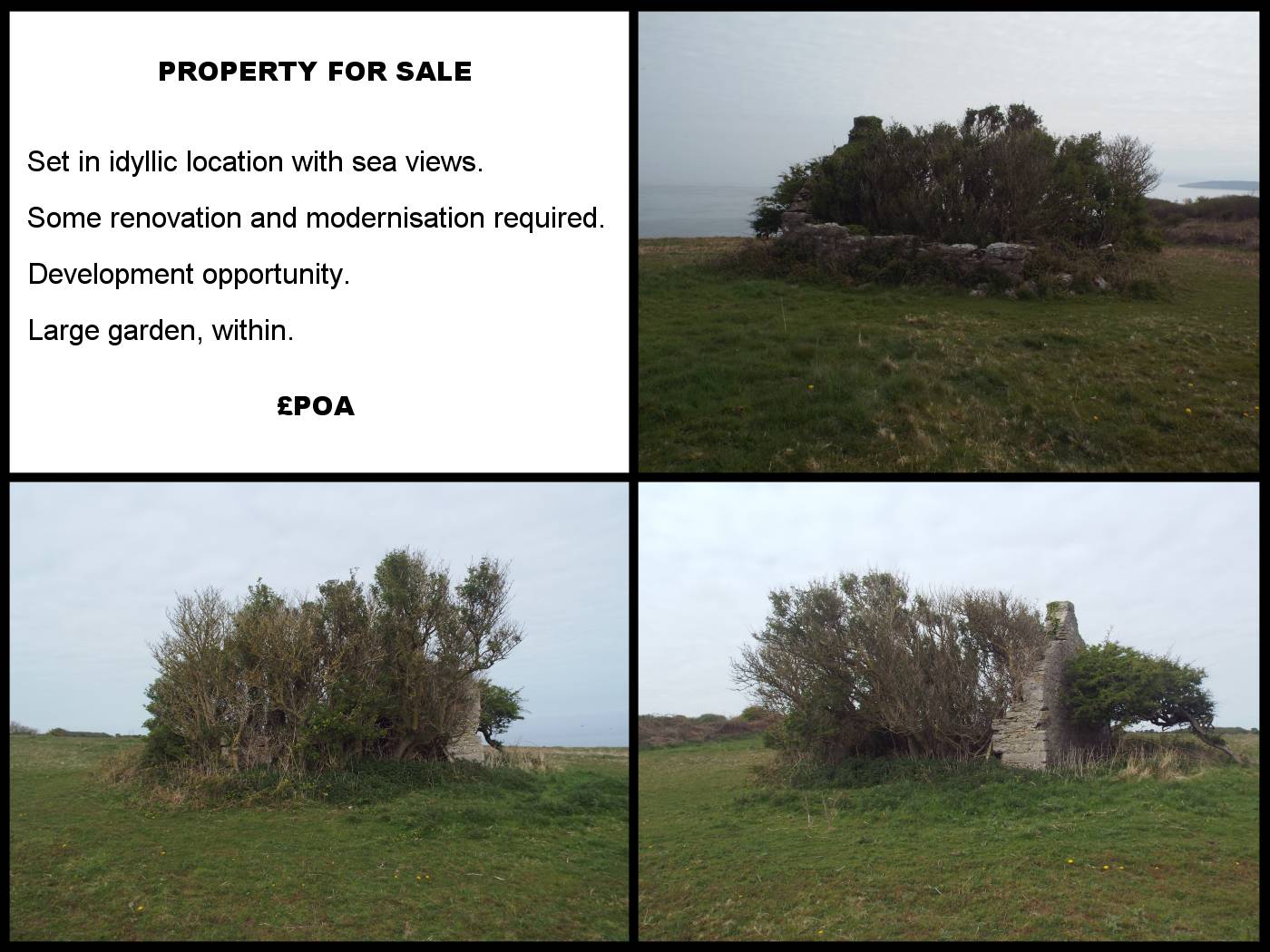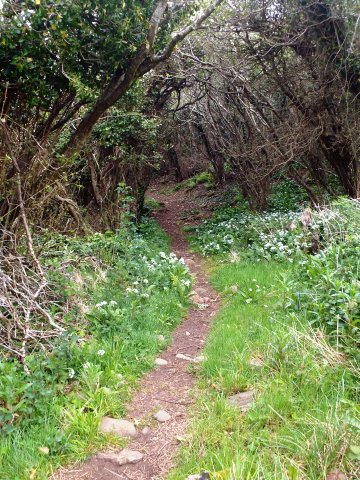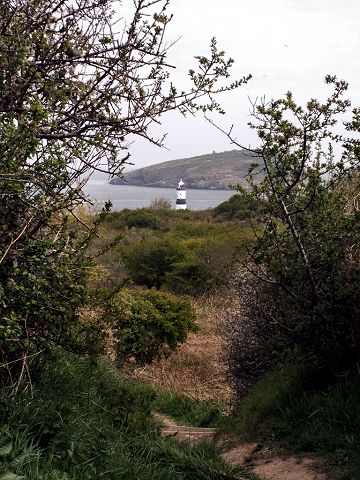 Some more hours would pass I would finally arrive at the Penmon Lighthouse cafe. Now I could enjoy a breakfast, just! It was already 12:30 in the afternoon and the cafe's menu stated breakfasts would only be served until noon. I took a chance and asked a member of staff who checked the time and 'confirmed' I had indeed missed my chance of a cooked breakfast. I waited in line to be served, but unsure what else I wanted instead since I find a cooked breakfast to generally meet my appetite without having to make complicated decisions. Now being asked for my order from another member of staff I took as second chance and enquired if I was indeed too late for a breakfast; a quick poke of a head into the kitchen to check and my luck was returned; someone there was still happy to serve me a breakfast.
I sat outside on one of the numerous picnic benches; it being quite busy here today but still a few vacant spots, and waited for my food to arrive. When it did I was pleasantly surprised to see chips (the British kind) as this is not typically part of a cooked breakfast and I liked the twist. I think some other people had seen me being served a breakfast and were somewhat disappointed that they had arrived "too late" to order one... perhaps if they'd had taken a chance and asked anyway they might have still have got one... I felt a little smug about this!
As I set off I made sure to get one last photograph of Puffin Island, timing it just right to get the sail boat in the shot, but really I think it's the camper van that makes it good!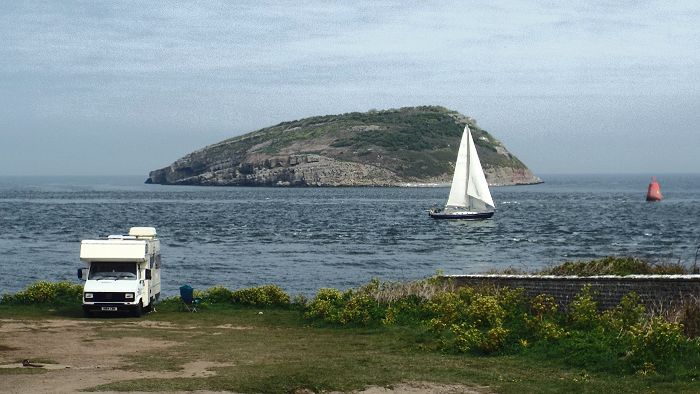 The next leg of my journey was to take me to Beaumaris, but first I passed by "Penmon Priory" (it didn't look like this on the day!):
"The monastery (called St Seiriol's monastery) grew in size and had a wooden church building by the 10th century. This wooden building was... destroyed in 971 and then rebuilt in the 12th century in stone, from 1120 to 1123... The priory church was enlarged in the early 13th century, at the time of the Augustinian Rule... The dining hall was on the first floor, with a cellar below and dormitory above" - Wikipedia
"The dovecot (also spelt dovecote [and seen to the right of the picture above]) stand[s] near the church was probably built in about 1600, in Elizabethan times, by Sir Richard Bulkeley for housing pigeons for their eggs and meat. It has a large domed roof with a cupola on top so birds could fly in and out. Inside the dovecot were 1,000 nesting boxes, with a pillar in the centre supporting a revolving ladder to provide access to the nesting boxes. The central pillar remains, but the ladder is now gone."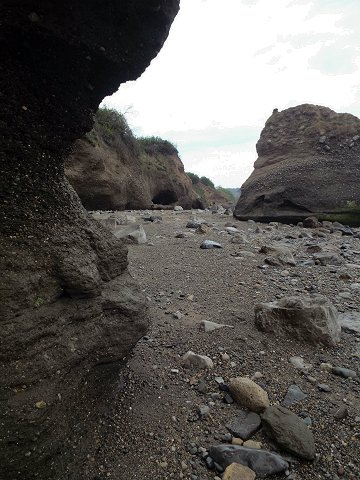 On the way I'd bought a box of eggs from a residence with chickens; it amused and pleased me to hear the chickens clucking nearby and I thanked them for providing me with the sustenance. I thought, at various points on my walk, about the challenges of acquiring food for my journey each day; I'm not much of a forager, but it generally seemed that the natural world, while rural and beautiful here, was devoid of sufficient food to sustain a person, unless one was prepared (and skilled enough) to catch a rabbit, fish, or steal a sheep (there's plenty of those on Anglesey). I thought about pre-historic people and their 'fight' for survival each day - or was their world better equipped with more in the way of food to eat, while ours generally comes from shops, supermarkets, cafes, and the occasional farm selling eggs. The challenge for me was 1) having to carry my requirements with me between civilisations/villages, 2) having to buy/pay for what I needed.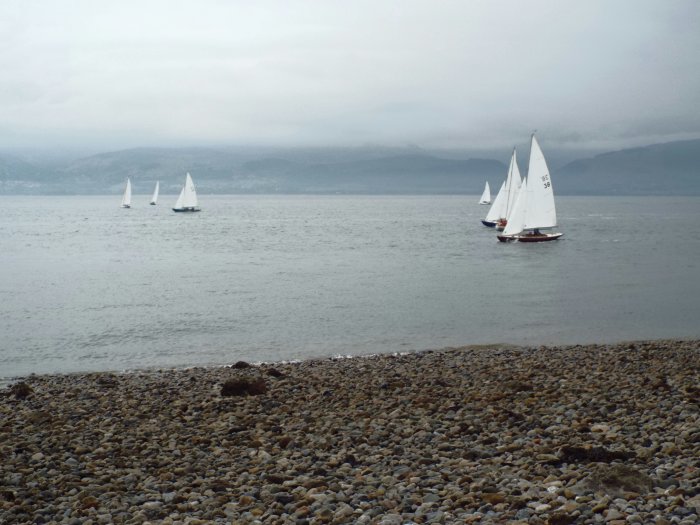 Sail boats out on the Menai Straits.
I had to trudge away along pebbles and rocks to get within a mile of Beaumaris proper, that was until I found a patch of grass I considered I could camp on for the night. It was either that or take a gamble and push on to walk through Beaumaris itself and then find somewhere on the other side of it, and I didn't know how much further I would have to walk beyond to find such a place, and if my body was up for that.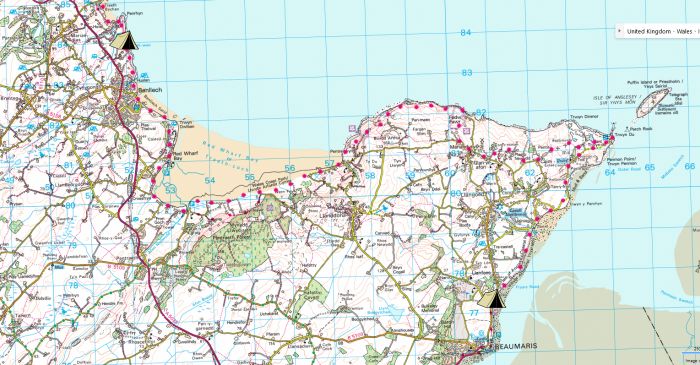 Today's route, from campsite to campsite - click the map for a more detailed view.

My view of the Menai Straits.

I have a short video clip
of my view at this location,
so be sure to check back.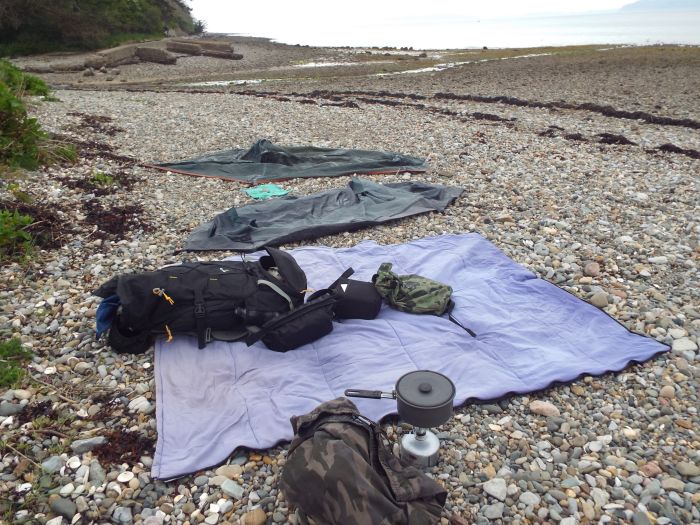 When wild-camping on a journey like this, I find I have a strange intuition that I put actively put into play at around 5pm - sooner if I'm feeling particularly exhausted or if the weather dictates it, or perhaps later if the day still feels young and I have daylight and weather on my side - I start looking out for a spot to pitch my tent. This act feels like some sort of natural instinct, a survival instinct, latent within until one finds themself 'out in the wild'.
Once I'd settled on the spot alongside the Menai Straits (the narrow stretch of water that runs between Anglesey and the mainland of Wales) that I would call home for the evening I unpacked all my gear to let things dry out on the pebbles. I cooked up those eggs I'd bought and devoured them. Some local lads wandered by as I sat on my spread out sleeping bag. I'm not sure if one was trying to be especially witty in front of his mates, or he thought my small tent in its flattened state was a deflated inflatable kayak, because he asked, weirdly, if he could sit on it... "umm, no!" somewhat horrified at the thought of the fabric being scuffed up and damaged on the harsh pebbles. Him and his buddies wandered a little further on to hang out, and as the evening began to draw in I willed them all to clear off so that I could set about my tent; I don't like to pitch it whilst people are around (especially if I don't want it to become known that I am "wild camping" somewhere and give people an opportunity to object - the best thing to do is to pitch as late as possible, and ideally out of site. Out of site wasn't really an option here.
Thankfully these lads trundled off home after an hour or so, but then a short while later a lone walker approached and asked if a group of walkers had come by, not walkers no, and she too wandered a short way further on to wait. But then a short while later those walkers appeared... all 200 of them!
So much for my quiet, solitary spot, although compared to the first group of lads, this slow migration of this mass of walkers coming up the beach from whence I myself had come, to, I assume Beaumaris itself, took a good hour to pass by!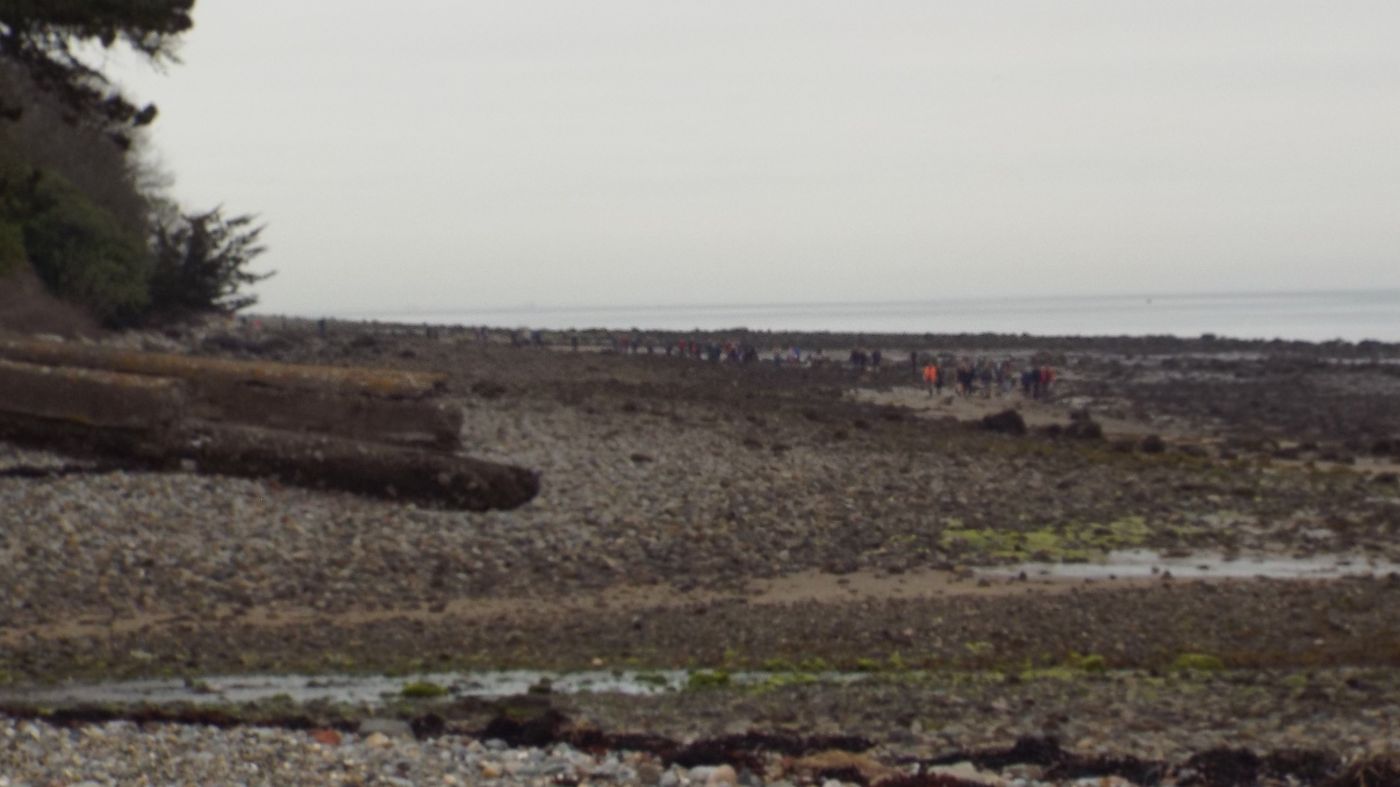 A blurry picture of of those walkers approaching.
I finally got to pitch my little tent for the night...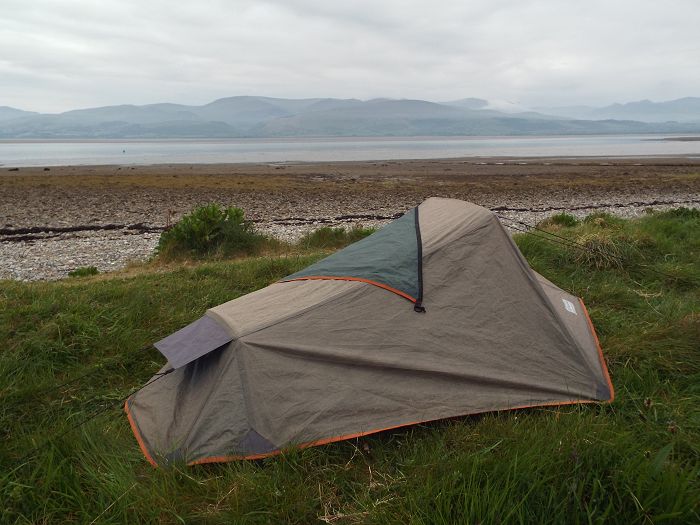 | | | | |
| --- | --- | --- | --- |
| Miles | Floors | Steps | Calories |
| 18.01 | 125 | 39,906 | 3,600 |
*This data is preliminary and upon my return I noticed a discrepancy between "official map distance" and what my Fitbit reported.
[ Day 4 ]