1st May 2022 - Day 2 of my Anglesey Coastal Footpath trip...
I'd been safe in my tent from the local cows, but it had started to rain once I was settled in my tent (which was part of my reason for not wanting to un-pitch and find another place). Since my tent has a small leak the end of my sleeping bag was soggy by the morning - I woke up up at 5:30am, an early start but something that would remain typical of my trip.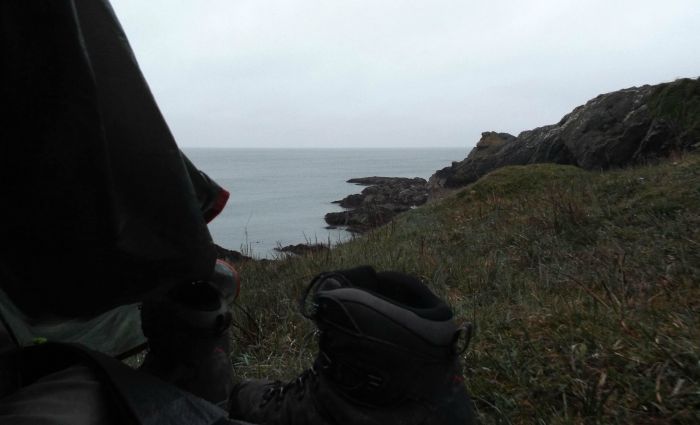 A grey, but sea view from my tent.
The previous day had been one for shorts and t-shirt, but today was an 'all-the-layers' day. Waterproofs and all. I mainly put them on to ensure I didn't start the day chilly but it was starting to spot again. I packed up and set off again.
Surprisingly my body wasn't aching from the previous day's walk as I'd feared it would; I just had back ache in the night which is typical for me when in a tent. My shoulders also felt better handling the heavy rucksack.
Within a short walk I arrived at Porth Eilian, Llaneilian - I have visited here before [link].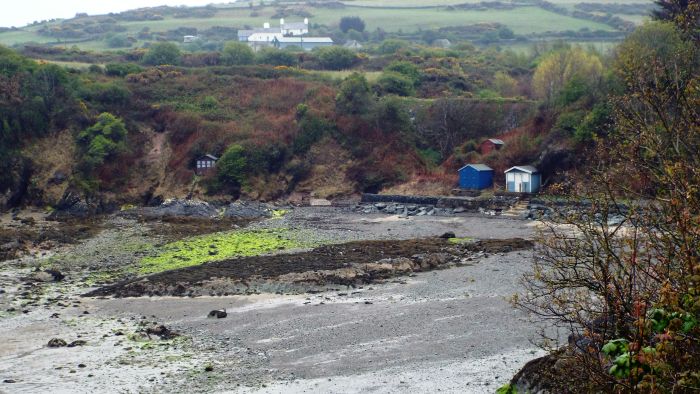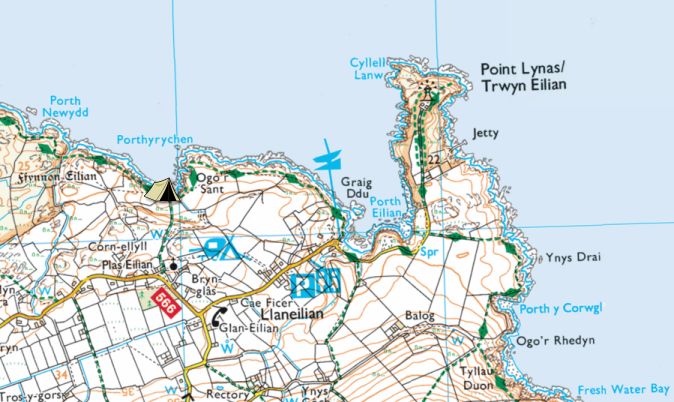 The instructions mislead me here "Before the entrance to Point Lynas turn right onto a path (there are paths onto Point Lynas itself). Follow the wall on your right, through the kissing gate, and just before the telegraph poles bear right." All this was leading me away from the Point Lynas lighthouse; I was expecting to walk to it, but no; there is a path if you just follow it and then come back; because of the rain I only had my instructions out, not a map. I only got to see the lighthouse from a distance.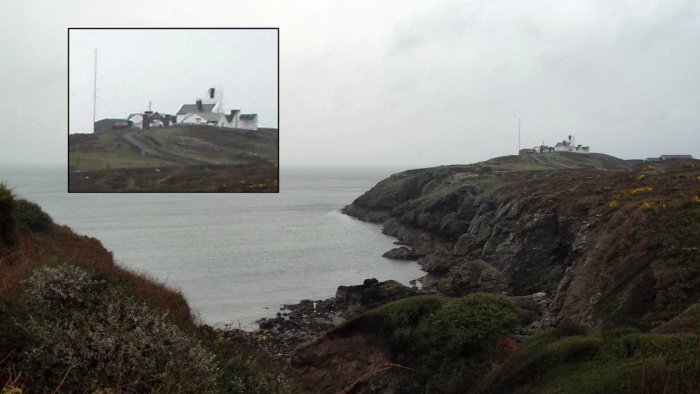 From this point on, rather than heading east, I was was now heading south round the coast.
The next stretch of footpath had a stile and boardwalks, things I would see a lot of on the walk. I think the view is good from both directions.
| | | | | |
| --- | --- | --- | --- | --- |
| | | Here a sheep stares down at me as I approach these steps! | | After this, in the distance I could see Ynys Dulas on the horizon complete with its tower. |

According to Wikipedia, Ynys Dulas, measuring in at less than 19 acres at low tide, used to be known as Ynys Gadarn (Strong or Mighty Island). The cylindrical, cone shaped tower on it was a rescue tower storing food and providing shelter for shipwrecked seamen, it was completed by a Colonel James in 1824.

The coastal path ventured inland a little, taking me into Dulas proper (I always think of 'City Dulas' on the main A5025 road, but this is more or less a mile away, as the crow flies. On the way I passed the site of the remains of an old church (right); I didn't get to look at this since I had my map in my bag still due to the rain, so perhaps I'll revisit it another day.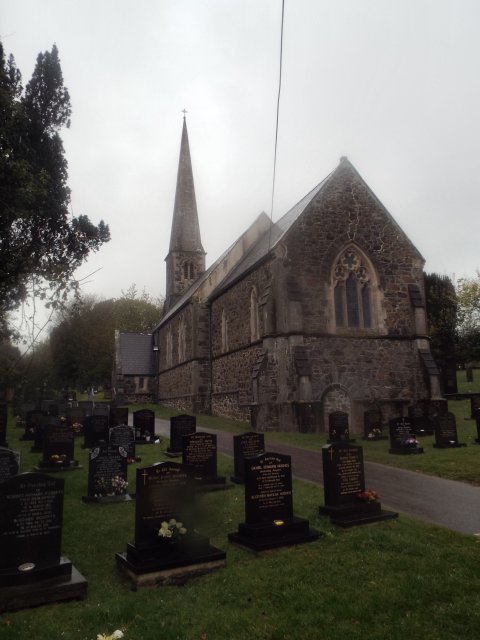 In Dulas proper was it's current church (right). Here I spotted a little gateway tucked round the corner from the main large, and closed gates, so I ventured in. I was happy to find near the entrance a water tap so I got to fill up my drinks bottles - being a religious site it felt like God himself had granted me water!
Next up was a long-ish walk (right) round Traeth Dulas where I could see as stranded vessel off to my left.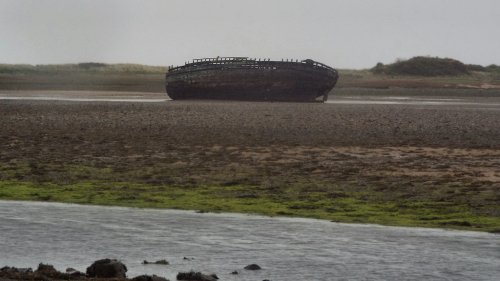 At the end of Traeth Dulas, where it reaches furthest inland, the footpath met with the main road that is the A5025 and lead to the Pilot Boat Inn at Bryn Refail. Further along there is an option to walk to a cafe. I have been there numerous times but it would be closed on this day. The footpath heads back towards the coast from behind the Pilot Boat Inn.
The Inn used to feature an old double decker bus as children's play equipment outside. This has now gone. I learn as I compose this page that the Inn was perhaps a smithy and that where the carpark and path go what is seemingly behind the property, used to be the road in front [link].
I now headed "back out to sea" along the other bank of Traeth Dulas. Then, before arriving at what is the popular and easily accessible Traeth Lligwy, I passed by a smaller beach but also with inviting sand one that is a little more involving to get to. Next to it a little bird caught my attention. It was flitting about in a tree overlooking the beach. I managed to get a couple of photographs of 'it', but also recorded it on video since it was flitting about so much. It wasn't until I got home that I'd actually photographed two birds; some good pictures considering I wasn't particularly close and they were hopping about a lot.
I have a short video clip
to add here once the full trip
has been documented,
so be sure to check
back for those.
I have another short video clip
to add here once the full trip
has been documented,
so be sure to check
back for those.
The beach that is Traeth Lligwy was the first proper one I walked on for the trip, and I trudged my way through the sand towards breakfast and a sit down at the small hut that provides burgers and coffee, amongst other things.
On the way from the beach was a "weather forecasting stone". The instructions (also in Welsh) read:

Today's Condition -- Today's Forecast
Stone is wet --- Rain
Stone is dry --- No rain yet
Shadows under stone --- Sunny
No Shadows --- Yes it's cloudy
Stone is white --- Snow
Cannot see stone --- Dark or foggy
Stone moves --- It's windy
Swinging stone --- Very windy

That the stone is being held at an angle by the wind, and the rain obstructs some of the words gives you a clear impression of the weather!

At this pebbly beach (right) there was more creativity at play - there were many stacks of pebbles which encouraged everyone who visited to add a stone somewhere. I tried to get a good picture but my best result feel somewhat lacking.

Next up Moelfre. It's quite touristy here; there is the lifeboat station and this statue; the grey weather suited the picture well I think.

In Moelfra I ate again at the Fish and Chip shop, but I was also thankful, this time, to be eating indoors and next to a radiator where I could dry some of my things. I ate a lot!

Once replenished I headed back out. There was a slight detour here due to a land slippage.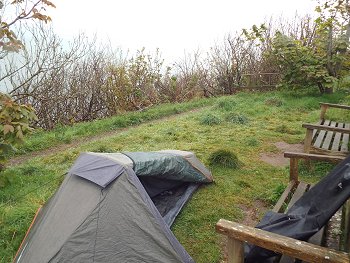 Then the footpath took me through numerous caravan sites (of which this patch of the coast is blessed with). It was here as the path passed behind a site it widened out and presented a couple of benches... and enough space on the grass for a small tent such as mine. It was only 3pm by this point, but the little spot seemed quite nice and I felt invited.
I sat for a while (in the rain) on one of the benches to consider things further. Only a couple of other walkers passed by, so in a break in the rain, and with a conformation rainbow, I pitched my tent and crawled in.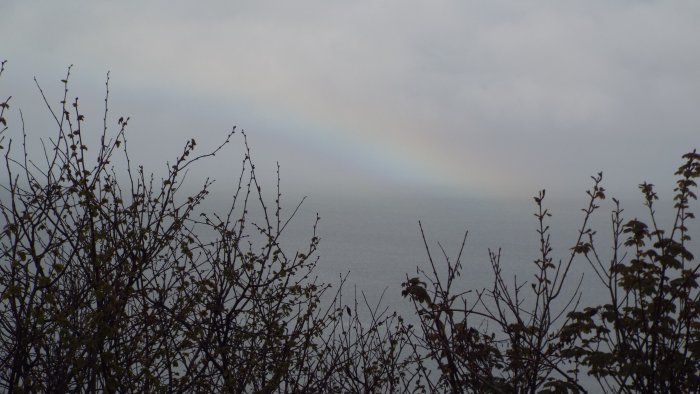 A couple of other walkers passed by in the evening, and other than their passing comment to each other as I lay quietly within, I was left un-disturbed.
| | | | |
| --- | --- | --- | --- |
| Miles | Floors | Steps | Calories |
| 17.61 | 219 | 38,996 | 3,493 |
*This data is preliminary and upon my return I noticed a discrepancy between "official map distance" and what my Fitbit reported.
[ Day 3 ]