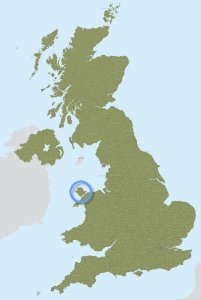 30th April 2022 - Day 1 of my Anglesey Coastal Footpath trip...
There is an official start point to the Footpath at Holyhead, but since I needed to start from the point closest to my home, I chose Cemaes as my start, the most northerly point.
This page is semi-complete; some of the pictures can be clicked on for larger versions, some of which are hosted on DeviantArt, other large versions will be added soon. There are also some place-holders for video clips which will be added once all days are created.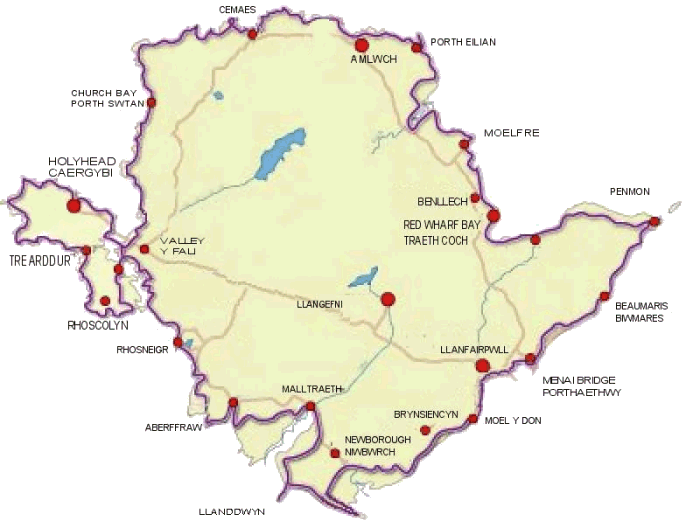 It was a few miles walk for me to Cemaes to start the Footpath proper, and within only half way there my shoulders ached from the weight of my rucksack - not a good sign, but all I could hope for was that my body would get used to carrying that thing.

Arriving at my entrance to the Footpath I took an obligatory (and somewhat stern-looking) selfie.


Some local horses see me off.


The first actual steps.
Here's a view out to Cemaes Bay from this section of the walk: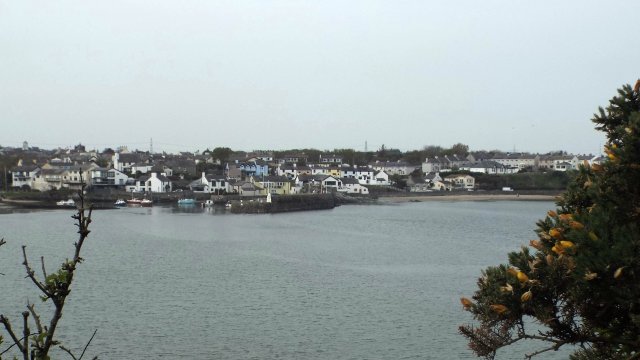 One feature of my trip that I quickly noticed on this first day was the various wildflowers.

I have a short video clip
to add here once the full trip
has been documented,
so be sure to check
back for those.
That's Wylfa Nuclear Power Station in the distance of the above photo, it will be seen again on the last day!
Next up I arrived at "White Lady Rock" and a choice of routes based on the tide. You can see from the photo below that the tide is in between White Lady so I had to follow a slight detour inland; it seemed the tide was on its way out so perhaps with only a short wait I could have walked on the beach.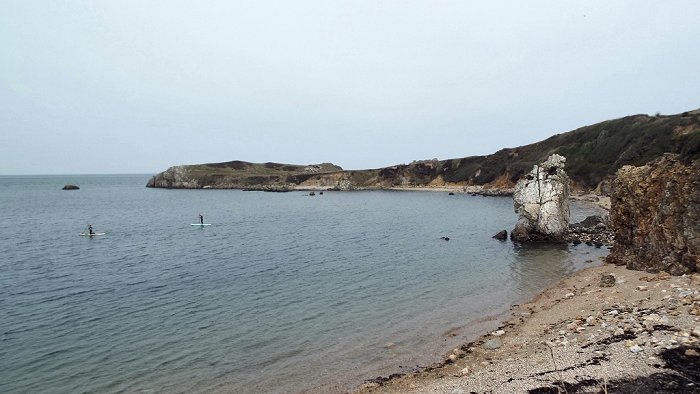 "White Lady Rock"
A further instruction said to head for a white house, but the one I could see was turquoise... but it looked quite recently painted!
| | |
| --- | --- |
| Llanbadrig Church. | "The church of St. Patrick and it is said to have been founded in 440CE by St. Patrick himself. Local legend states that Patrick was shipwrecked on the small nearby island of Ynys Badrig (Patrick's Isle, also known as Middle Mouse), which can be seen from the stile in the churchyard wall. The nearby cove is known as Porth Padrig." - Wikipedia and more here. |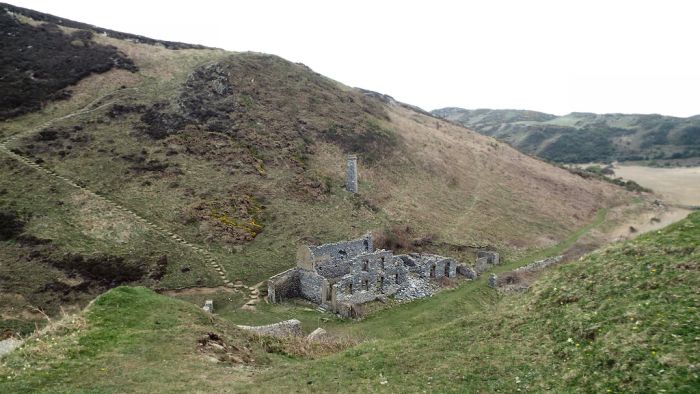 Porth Llanlleiana.
The directions took me down to the buildings and then I had the choice of the easy route off to the right, or the harder route up the steps to the left... I set off up the steps to the left. While my rucksack may have been heavy on my shoulders, I could be thankful for my fitness and strong legs from regular cycling!
"Between Porth Wen and Cemaes Bay are the remains of Llanlleiana porcelain works which is situated at the most northerly point in Wales. It produced porcelain from deposits of china clay found on Dinas Gynfor nearby. The works consists of a main building and a remote chimney, this was to direct the noxious fumes away from the working areas. The works closed in 1920 after being damaged by fire." - Source.
| | | |
| --- | --- | --- |
| Some more signs of past industry. | An alien resides within this lookout tower - I didn't get a photo of the outside, but there's a similar one round Holyhead mountain way (we'll get to that on another day). | I was being followed around the coast. |
As the Porthwen Brickworks buildings came into site I could see I wasn't the only camper out and about.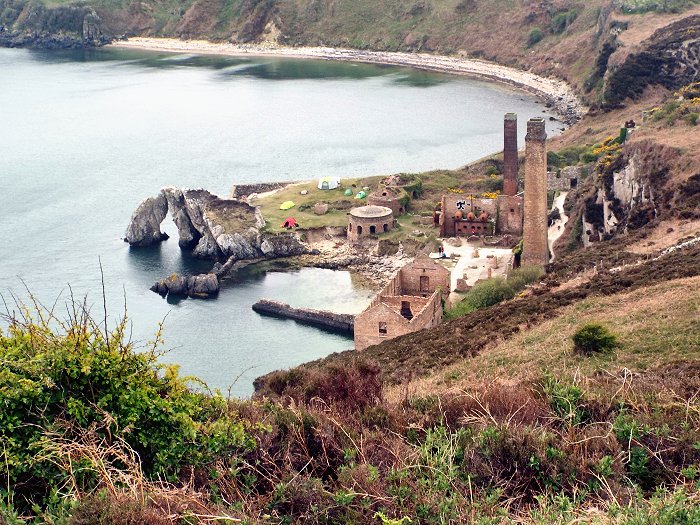 There was a large gate with numerous chains and padlocks seemingly preventing access to the site, but other people were simply climbing over so I followed suit; I'd only ever seen pictures of this place before so I was keen to look around.
In addition to the obvious tents, at least one of the round buildings was adorned with a hammock.
"Porth Wen Brickworks ... is now a disused Victorian brickworks which produced fire bricks, made from quartzite (silica) used to line steel-making furnaces. The substantial remains include a number of buildings and the remains of some of the machinery... [The] Brickworks includes quarries, an incline tramroad to the works, and includes a crushing house, moulding shed, drying sheds, and kilns... Brickmaking started on the site in the mid 19th century, with the tramroad being added later, and the existing buildings being built in the early 20th century... the brickworks ceased production in the first half of the 20th century..." - Wikipedia.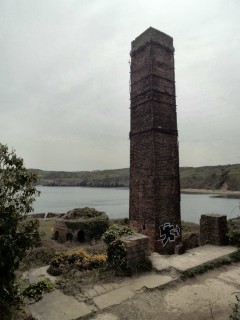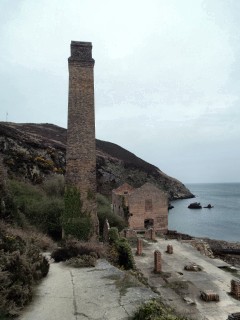 When I'd continued on round the bay I looked back to see more canoeists. They would eventually all come together on the beach to the right of works.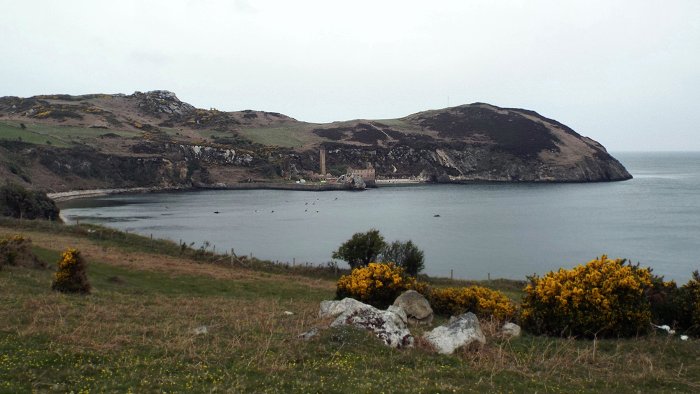 Further along I realised some fellow walkers were observing something out to sea, so I joined in.
I have a short video clip of the
dolphins to add here once the
full trip has been documented,
so be sure to check back.

Bull Bay.

More wild flowers.

An attractive footpath.

This is a disused railway line
that runs across Anglesey.
Here it leads past Amlwch's
water tower. More here.
By the time I reached Bull Bay my ankles were feeling tired and I was ready for a sit down.
I detoured off the coastal footpath into Amlwch proper and enjoyed a refuelling mid-afternoon breakfast in the popular high street cafe (not my first one here!). When I had finished my meal and was getting ready to leave, it being clear that I was doing the coastal footpath (the size of my rucksack a giveaway), THEN I was offered the availably of charging facilities for my gadgets. A nice gesture that I'm sure could be useful to many travellers, but since I had already been there for an hour (time which could have been used for charging a phone), I was now ready to leave! It wasn't like I was going to sit back down for another hour... (I didn't have anything that needed charging anyway).

Amlwch Port.
Back to the path proper I passed by Amlwch Port and the Sail Loft; this is also a cafe and museum (presently closed), which I have been in before, the cafe at least.

I appreciated the effort someone went
to carve the border for this sign.
"There are no early records of Elianís life, most accounts were first written in the middle ages. It is said that Elian came to Wales from Rome, arriving in the fifth century with oxen and other animals, landing on the Anglesey coast to start a mission. Caswallon, the local lord, father of Maelgwn Gwynedd, offered him land on which to establish a church. His generosity extended to granting an area to be determined by the distance Eilianís pet doe could cover in a day. Unfortunately whilst the doe was measuring out the land it was attacked and killed by a greyhound. Elian was so upset that he immediately cursed the place such that no man would be able to keep a greyhound on that land ever again.

Eilianís well, Ffynnon Eilian, is at the foot of a rocky outcrop close to the sea. Water emerges from a cleft at the base of the rock. In August the area was extremely overgrown, and the layout of the ground was difficult to see. It appears that the water flows away from the source in a stone lined channel towards the nearby stream. Further stone marks the base of a small chapel that once surrounded the well. The rock formed the back wall and three other walls enclosed it with an area of some six yards by four yards." - Source.


Ffynnon Eilian's Holy Well
(The water didn't look
quite so holy to me)
A little further on and I found a spot for my tent; it was only just gone 5pm but I was worn out for the day - I'd been walking for some 7 hours.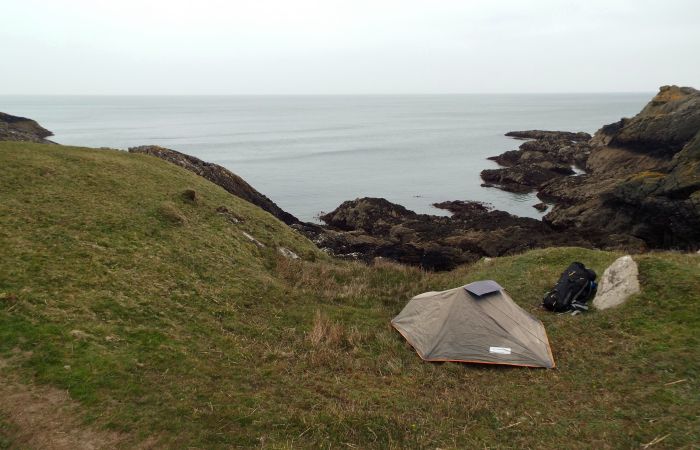 There were sheep in one neighbouring field, and cows in another, but at present these grazing land was unused... or so I thought.
I'd settled into my sleeping bag and was relaxing. I could here cows occasionally moo'ing in the not-so-distant distance, until some of the moo'ing seemed rather too close. I tentatively unzipped my tent to have a peer out... I came face to face with a cow. Ok, she was a few meters away, but certainly not in the next field as I'd thought! Occasionally throughout the evening others would come nearby to seemingly wonder what this thing was in their field, but other than that, thankfully I was left alone; my main concern was that I'd have a cow walking through the guy-ropes of my tent in the night, but by now I was too tired to care, and in no mood to de-pitch my tent and find a safer spot (especially since I could only see sheep fields further along the path). I prayed I would be safe.
| | | | |
| --- | --- | --- | --- |
| Miles | Floors | Steps | Calories |
| 16.21 | 273 | 35,895 | 3,444 |
*This data is preliminary and upon my return I noticed a discrepancy between "official map distance" and what my Fitbit reported.
[ Day 2 ]