[15 March 2023] I acquired one of these: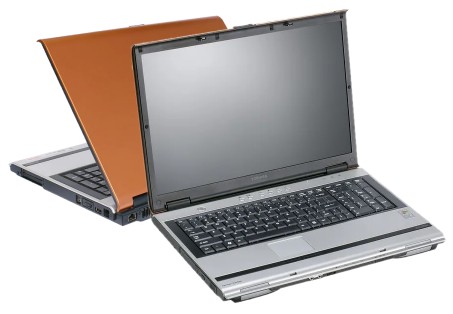 It's a 17" Toshiba Satellite M60-132 laptop running Windows XP, and I would go so far as to say that it's a (retro) gaming laptop since it has ATI Radeon 128MB graphics, larger screen, and up-rated audio.
My specimen is in a nice condition and while I'm not into gaming, the built-in speakers are, as far as laptops are concerned, nice for watching movies.
RAM:
My version came to me with only 512MB DDR2 4200 RAM, but this can be upgraded to 2GB according to the specs. I have tried 4GB with 2 x 2GB DDR2 6400 but it failed to startup. I got it to startup with a 2GB and the 512MB module, but only 2GB was recognised by the BIOS. Perhaps 2 x 2GB DDR2 5300 modules will work. For now I have ordered 2 x 1GB modules.
Hard Drive:
My version was supplied with a 60GB IDE hard drive. I have an IDE to CompactFlash card adapter which I have tried it with, but there is little performance improvement over a hard drive, and less capacity with my 8GB card.
Faults:
The mouse pad doesn't work on mine; the function key works for it but still nothing. The battery also holds insufficient power to switch it on.
I'm contemplating what to do with the laptop. I have the original recovery discs.
More info [here]