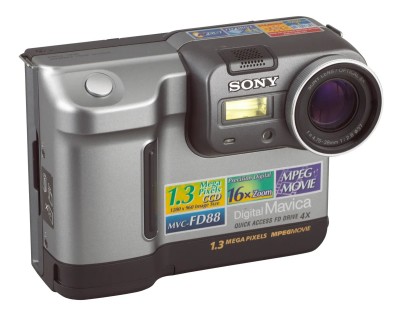 [July 2022] I recently found one of these old Sony Mavica cameras on ebay, an MVC-FD88. I was intrigued because it records (both still images and short video clips) directly onto floppy disks and I'd never come across one of these before.
The MVC-FD88 was sold as "untested", but fortunately, after buying a battery for it and a charger, it seems to be more or less working. I am having a problem with reliability though which I think (and hope) it due (only) to the old floppy disks I'm using but perhaps the floppy drive needs servicing. Occasionally the camera will encounter a problem with a disk but it is always hit or miss as to whether my computer will successfully read the files. I make a point of first formatting each disk in the camera. The reliability provides a similar experience to using a film camera where you don't know the success until you have the film developed.
Resolutions:
JPG up to 1280x960 (1.3MP)
MPG up to 15 seconds at 160x112 or 320x240, 25fps.
All photos on this page are unedited unless otherwise stated (click for full view).
UPDATE: I have since found another Mavica going cheap on ebay, again "untested" but it includes a Mavica bag. This model is the MVC-FD87 which appears to be more basic, lacking the video option. It seems that the floppy drive in this one is functioning more reliably so I'm wondering if I can either service the other one, or swap them.
One thing I did discover while researching this latest camera is there is/was a MSC-FD2M/FD2MA 'dummy floppy' adapter for Memory Stick cards that could be used; I will keep an eye open for one of these, although I am sure they would still rely on the camera to have a fully functioning floppy drive to operate, but I hope it might be a more reliable and practical solution to carrying a box of floppy disks around on a trip!