Interesting Loads I've Hauled: (latest first)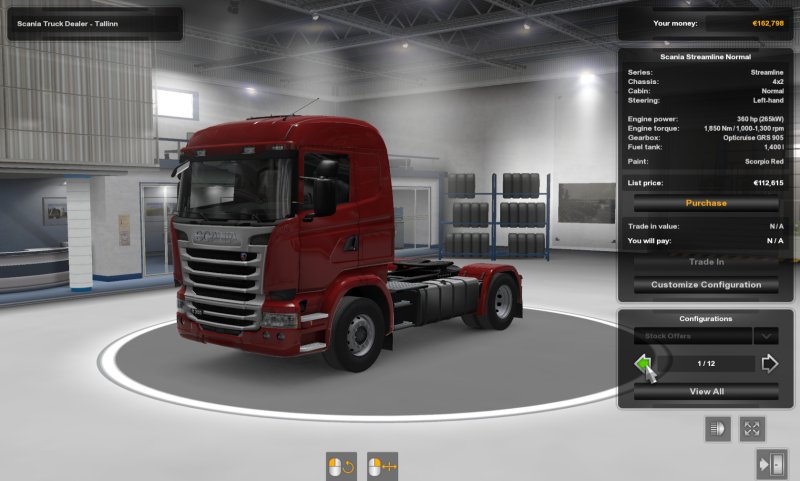 ETS is all about driving trucks and hauling loads from one place to another around Europe [and the UK!] However, it doesn't keep track of your "current location" in between jobs; once you arrive at your destination you can pick another job and that can start from anywhere of your choosing. This seems odd to me; I prefer the (more realistic and logical) idea that you'd arrive at your destination and then pick another job that sets off from that area. For this reason I'm trying to pick jobs based on this idea, but in means remembering where I arrived at last time I played.
I've now purchased my own truck! (right)

12/07/21: I've been getting more impatient on journeys... leading to some more bumps!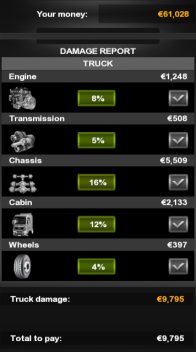 Again, I took the opportunity to get an upgrade: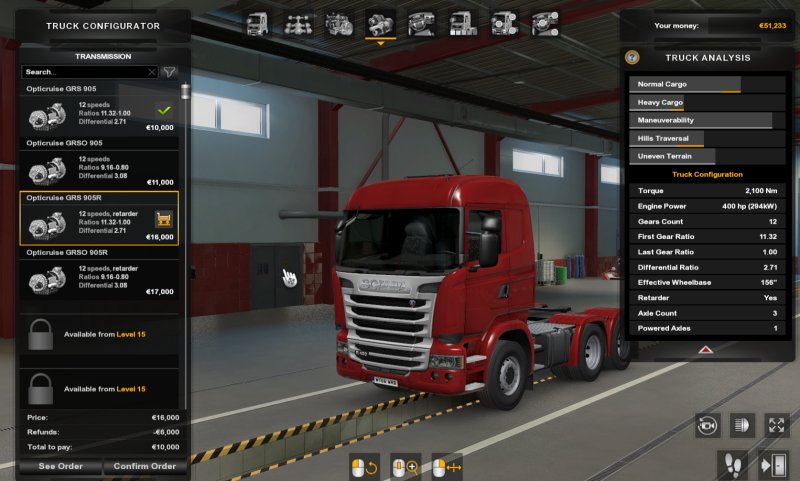 07/07/21: Today didn't get off to a good start!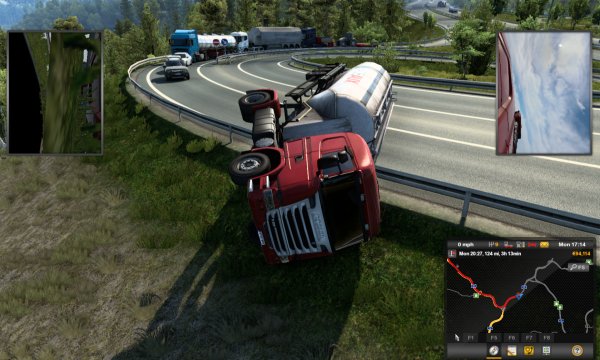 I took those bends too fast and rolled my truck! It looks like it's taking a nap...
I got toed but didn't bother getting my truck repaired (I didn't want the delivery to be any later) so the engine kept cutting out... This was the damage report: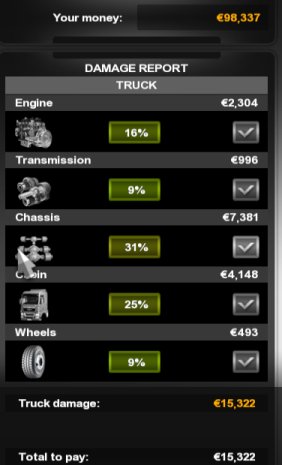 Then my tiredness reached maximum and I kept dozing off. The delivery ended up being about 10 hours late.
When I finally got my truck repaired I opted for some upgrades; now it copes better with heavy cargo, coping better up steep gradients, and is generally more powerful and quicker (although still not the fastest).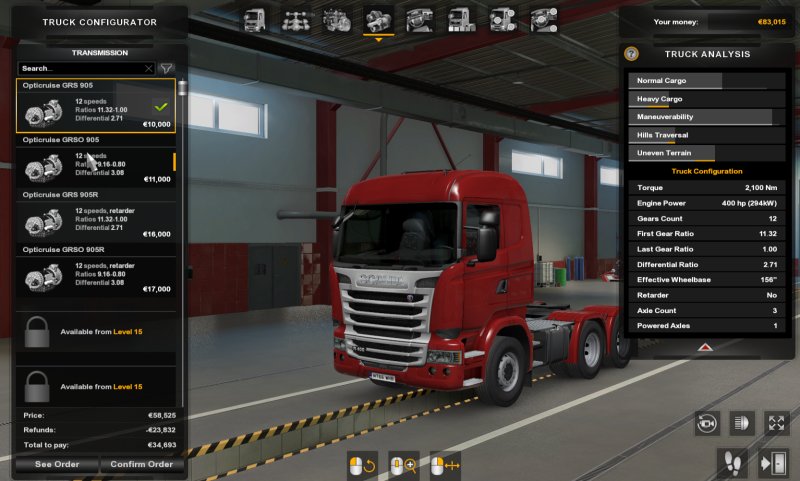 I'm getting confident with parking now. I had this tight space to back into, and it went smoothly, and in the dark too!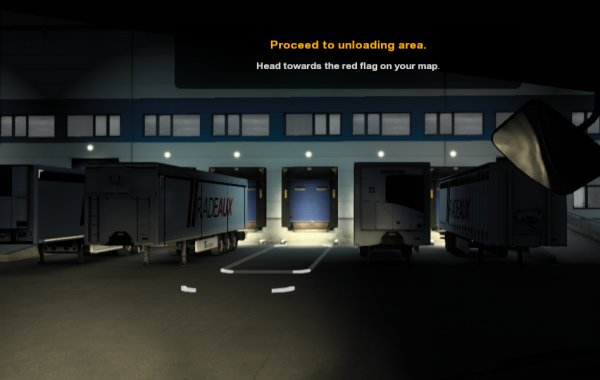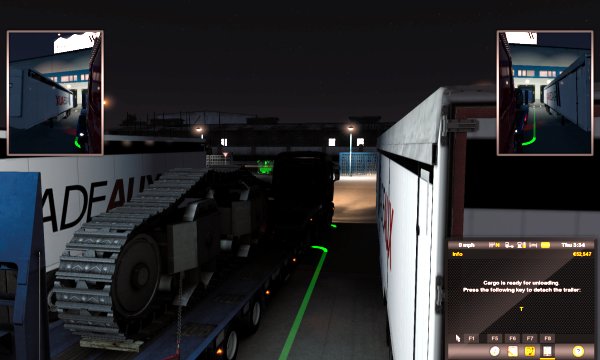 Here's another one of those trailers with "tracks" on, neatly backed into a space
(there are still plenty of times when it takes multiple attempts!):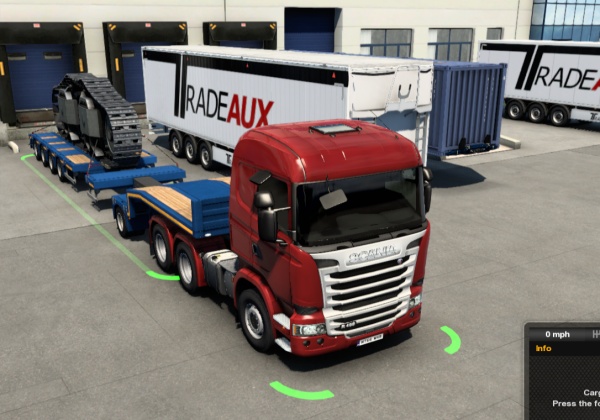 06/07/21: I started today with another bendy lorry: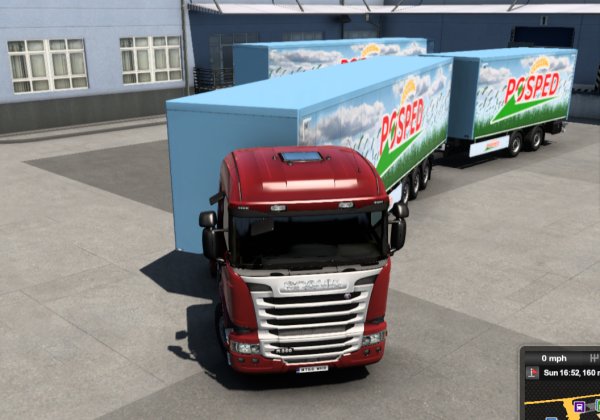 When I first reviewed the job I wondered how my little truck would cope.
It was literally the cheapest I could find and I guessed somewhat under-powered.

Sure enough, when I agreed to the job I was then asked to review my "current truck configuration".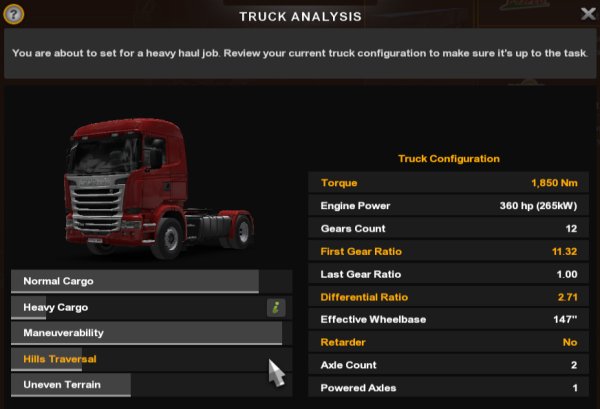 Not really understanding what I could about any of the above, other than perhaps visiting a garage
and paying to upgrade my truck... I accepted the job as it was and proceeded...
Actually my truck coped fine; thankfully there weren't any hill-starts and I remained patient
as my truck lulled up to speed on the faster roads.
On a later trip, with a more normal-sized load, I amused myself by drafting a truck in front, seeing just how close I could get...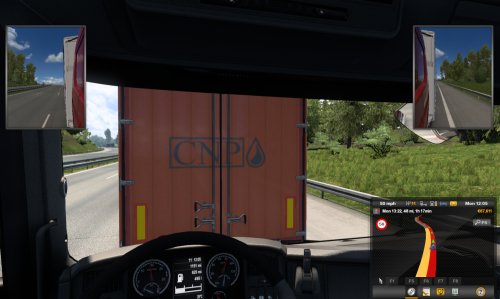 It looks close, but actually from about, it's about like this: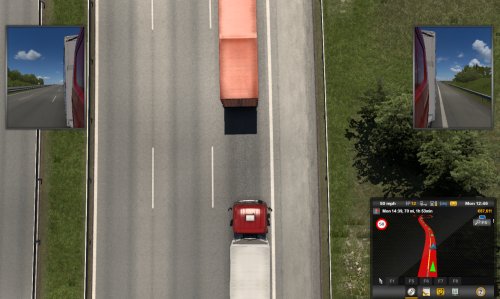 I then managed to miss my turning...
05/07/21: Check out this neat bit of parking! (it took me two attempts to get the FCP trailer in there, with a minor bump or two!)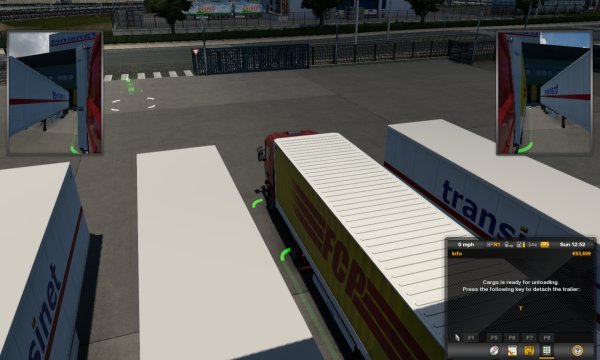 | | | |
| --- | --- | --- |
| Date (recent 1st) | | *Interesting Load |
| 13/07/21 | Reims - Brussels | Used Packaging |
| | Le Havre - Calais | Industrial Cable Reel |
| 12/07/21 | Paris - Pavel | Square Tubing |
| | London - Paris | Empty Pallets |
| | Felixstow - London | Carrots |
| | Calais - Felixstow | Tracks |
| 11/07/21 | Felixstow - Calais | Straw Bales |
| | Calais - Felixstowe | Tracks* |
| | Felixstowe - Calais | Straw Bales |
| | Amsterdam - Felixstowe | Tracks* |
| 08/07/21 | Osnabruck - Amsterdam | Fertilizer |
| | Cologne - Osnabruck | Concrete Centring |
| 07/07/21 | Frankfurt - Cologne | Plastic Granules* |
| | Dortmund - Frankfurt | Olives* |
| | Gronigen - Dortmund | Used Plastics |
| 06/07/21 | Rotterdam - Gronigen | Sausages* |
| | Manchester - Rotterdam | Used Car Batteries* |
| | Newcastle - Manchester | Reservoir Tank |
| 05/07/21 | Esbjerg - Newcastle | Sheep Wool |
| 04/07/21 | Liverpool - Esbjerg | Reservoir Tank* |