Interesting Loads I've Hauled: (latest first)
04/07/21: Another 'bendy lorry' to start today: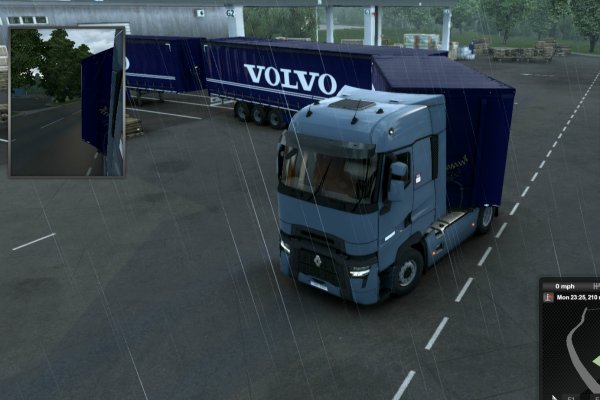 This was a fun parking manoeuvre!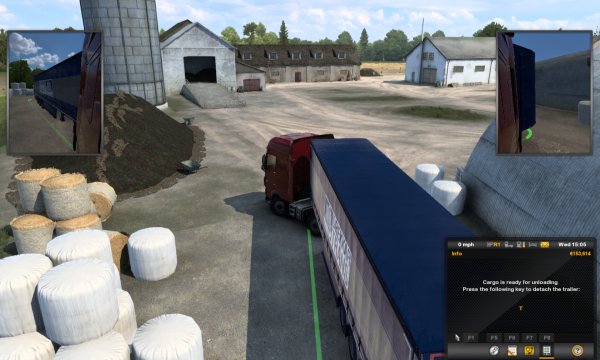 Even though I arrived late!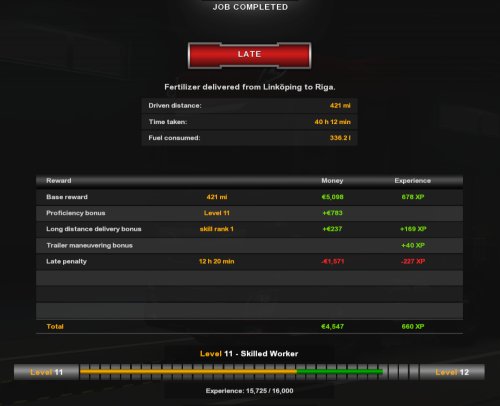 I'd had to use a ferry and I chose the cheapest option which added a couple of hundred miles of driving onto my journey... I rarely take not of the delivery time but on this occasion I did and I recall it stated 2:46... which I did... but PM instead of AM!
Then some gravel to deliver, and another wonky parking manoeuvre... at least the trailer is where it needs to be!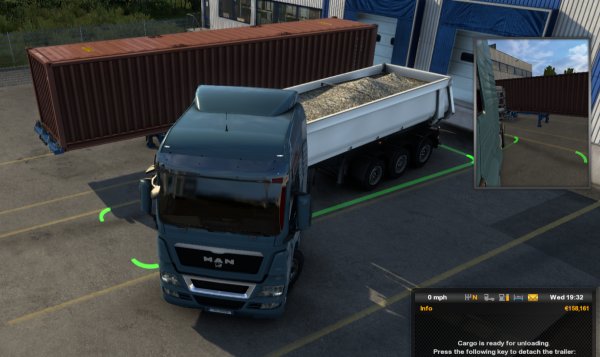 Now I am with my own truck and I had to collect this Reservoir Tank, which involved hitching up to a trailer for the first time [previously the truck was ready hitched, but here I had to drive there in my own truck to collect the load... I hitched up pretty easily.]: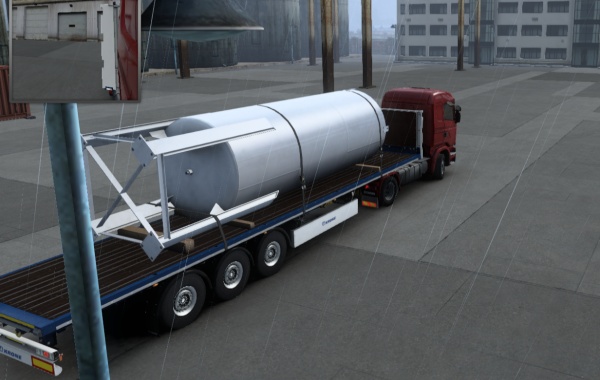 I also found myself driving a lot more carefully now that this is my own truck and any damage and penalties (such as speeding fines) will come out of my pocket. This first trip was without fault.
03/07/21: I think this 'bendy lorry' contained pears: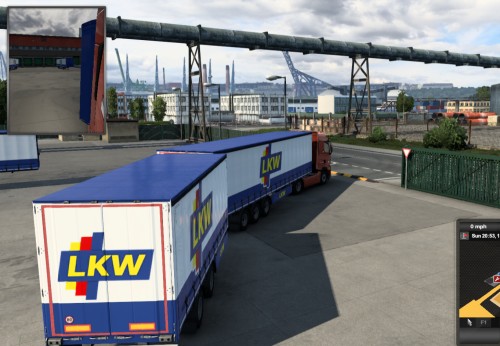 01/07/21: Today I took an Industrial Cable Reel from Cologne to Kassel... it was quite large and was on a flat-bed trailer with many little wheels at the back... even navigating that thing out of the yard was tricky.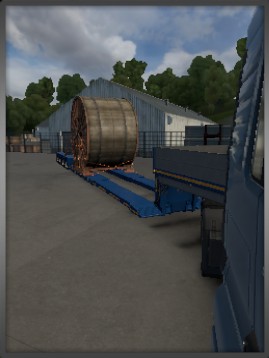 30/06/21: I started today with a wide load that consisted of an 'excavator bucket'. The trip went well, just one minor bump with a guard-rail on a narrow and winding off-ramp, but I didn't even get penalised for that it was so minor... I didn't even get a speeding ticket, and I usually get at least one of those each mission!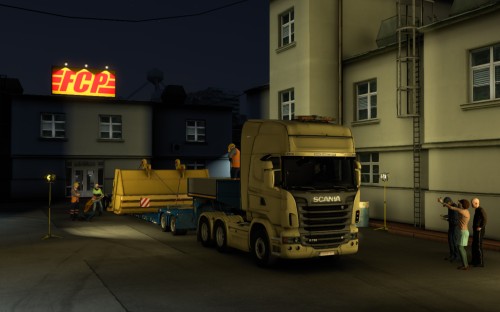 Later I took logs from Metz... and crashed. Somehow I still get awarded "Excellent" even though I had to get towed and I didn't pay to fix the damage [the truck even failed to start after I stopped for a nap, and it cut out on me after that too!]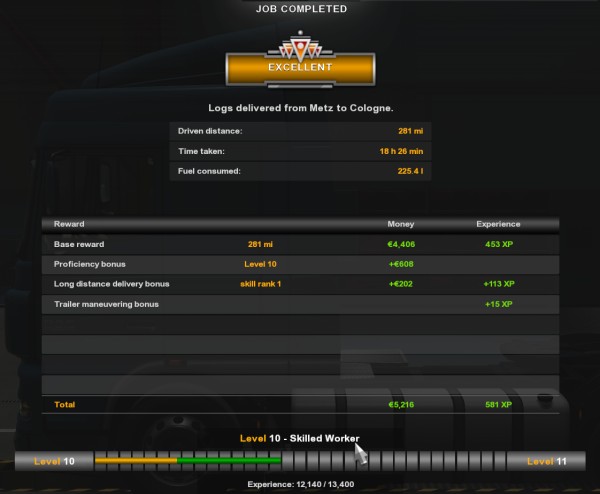 29/06/21: Another large load today, an "Industrial Condenser". Needless to say, I crashed, twice,
into the support vehicle ahead of me when he stopped suddenly...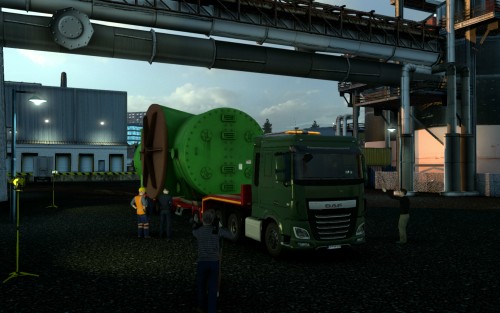 28/06/21: I took a 'Massive Tech Part' from Plymouth to Dover...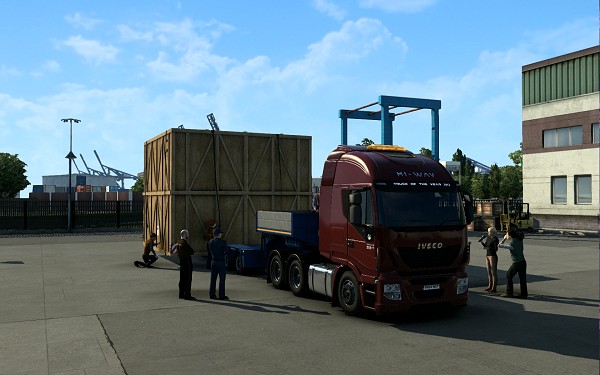 The trip didn't go all that smoothly!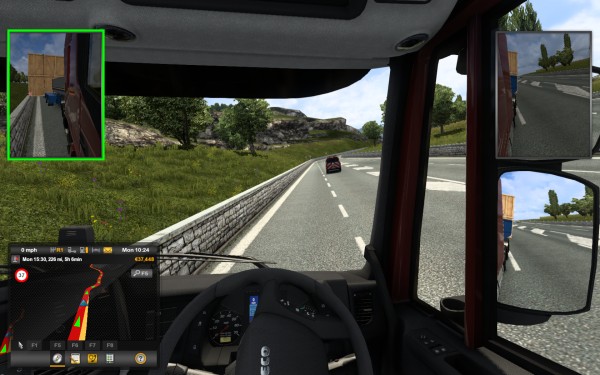 The wide load got caught on a low wall; fortunately after some 10 minutes with my foot to the floor I was able to free the load from the obstruction and carry on my way... but the same happened again on another occasion, and more seriously, causing my following support vehicle to crash into the back of the trailer and I failed the mission because of that. Fortunately the game allowed me to continue from a save point and the load was safely delivered (with only a few other indiscretions!)
28/06/21: This was my first double-articulated lorry today!
All the jobs below were done with vehicles provided, and it took me all of these [over 8 days] to save up enough money to buy my own (I think you can get a bank loan to speed things up but I'm not that way inclined). Towards the end of that project, I was working my way north-east through Europe, but I then had to return to the UK to my truck shed!

| | | |
| --- | --- | --- |
| Date (recent 1st) | | *Interesting Load |
| | Riga - Paldiski | Gravel* |
| | Linkoping - Riga | Fertilizer* |
| 04/07/21 | Gothenburg - Linkoping | Empty Barrels* |
| | Malmo - Gothenburg | Scaffolding |
| | Esbjerg - Malmo | Apples |
| | Kiel - Esbjerg | IBC Containers |
| | Rostock - Kiel | Honey |
| 03/07/21 | Hamburg - Rostock | Radiators |
| | Bremen - Hamburg | Pears* |
| | Duisburg - Bremen | Vinegar |
| 02/07/21 | Kassel - Duisburg | Used Packaging |
| 01/07/21 | Cologne - Kassel | Industrial Cable Reel* |
| | Metz - Cologne | Logs* |
| | Dusseldorf - Metz | Wood Shavings |
| | Amsterdam - Dusseldorf | Gummy Bears! |
| 30/06/21 | Brussels - Amsterdam | Excavator Bucket* |
| | Amsterdam - Brussels | Bottled Water |
| | Newcastle - Amsterdam | Caviar! [this time I went via the Channel Tunnel rather than a ferry] |
| | Amsterdam - Newcastle | Caviar |
| | Cologne - Amsterdam | Industrial Condenser |
| | Lille - Cologne | Used Packaging |
| | Rotterdam - Lille | Reservoir Tank |
| 29/06/21 | Osnabruick - Rotterdam | Outdoor Floor Tiles |
| | Liege- Osnabruick | Atlantic Cod Fillet |
| | Dover - Liege | Harvesting Bins |
| | Plymouth - Dover | Massive Tech Part* |
| | Swansea - Plymouth | Sausages |
| 28/06/21 | Bilbao - Swansea | Coconut Milk |
| | Zaragoza - Valencia | Empty Pallets* |
| | Bilbao - Zaragoza | Aircraft Tyres |
| | Cardiff - Bilbao | Non-alcoholic Beer |
| | Manchester - Cardiff | Sausages |
| | Rotterdam - Manchester | Ventilation Shaft |
| | Manchester - Rotterdam | Tractors |
| 27/06/21 | Liverpool - Manchester | Motor Oil |