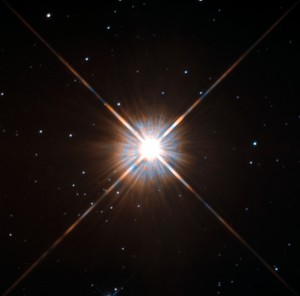 Proxima Centauri [right, photographed by Hubble Space Telescope WFPC2] is part of the Alpha Centauri star system, the closest star system and planetary system to Earth's Solar System at 4.37 light-years from the Sun. It is a triple star system, the other two stars as Sun-like and form a binary.
Proxima Centauri has two known planets, Proxima b, an Earth-sized exoplanet in the habitable zone discovered in 2016; and proxima c, a super-Earth, which is possible surrounded by a huge ring system, discovered in 2019.
α Centauri is the designation given to Alpha Centauri by Johann Bayer in 1603.
Alpha Centauri C was discovered in 1915 by Robert T. A. Innes.
Alpha Centauri is listed in Ptolemy's star catalogue. In his time it was visible from Alexandria, Egypt, but due to precession it can no longer be seen from that latitude.
The binary nature of Alpha Centauri AB was recognised in 1689 by Jean Richaud.
...
[20 December 2020] "SETI Detected a Strange Radio Signal From Proxima Centauri"